With last week's aborted terror attack, in which parcels containing crude bombs were shipped on international cargo planes, the subject of cargo security is back in the news big time, and likely will lead to some level of change in current programs and requirements - or at least more scrutiny.
With that, we thought it made sense to summarize existing US programs dealing with cargo security. Handily, the Government Accounting Office (GAO), an analytic arm of the US Congress, just in September released a report on the current state of four new programs and technologies targeted at increase security, which included a concise summary of existing programs, as shown in the graphic below.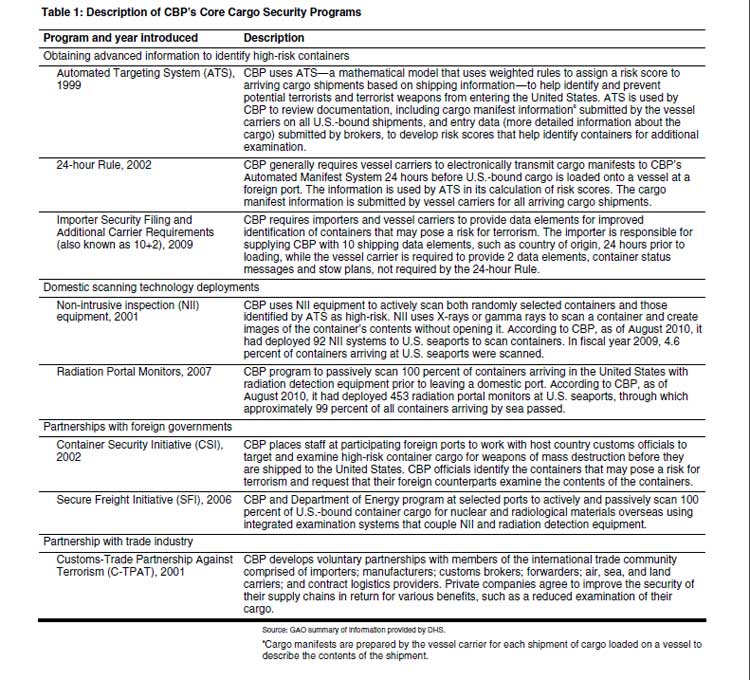 Source: Government Accounting Office
The full report actually warns that the four new technologies, mostly related to container tampering and tracking, are behind schedule and maybe more importantly the requirements and testing parameters are primarily focused on ocean shipping and may be ignoring other logistics scenarios.
Read our story on the report here: The Complex World of Cargo Security and Government Programs and Standards

Agree or disagree? What is your perspective? Let us know your thoughts at the Feedback button below.