Multi-Channel management has become one of the most challenging business and supply chain issues for many companies.
To do that effectively, there are a wide range of "entities" that need to managed and integrated across channels, according to Guneet Paintal of Infosys Technologies during a recent videocast on The Supply Chain Television Channel.
Those entities include orders, the customer, inventory, planning, pricing, promotions, taxes and much more.
One other set of entities that must be managed are "business processes, rules and policies" across channels, ssys Paintal, to ensure those rules and policies are executed consistently across channels, as shown in the graphic below. More and more retailers and manufacturers are deploying sophisticated "rules engines" - tools that are much more user friendly and flexible today than they were in years past, Paintal says.
The acryonym "MCC" in the graphic stands for Multi-Channel Commerce. Infosys believes companies achieve multi-channel commerce through the integration of "multi-channel operations" and "multi-channel integration." To learn more, view the on-demand videocast here: Fulfilling the Promise of Multi-Channel Commerce.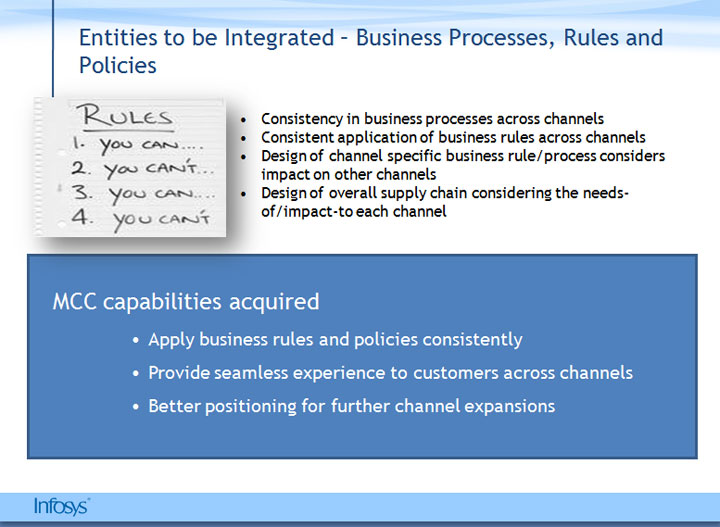 Source: Infosys
According to Paintel, focusing solely on multi-channel operations only leads to a silo effect and introduces inconsistent customer experience, duplication of processes and infrastructure, and lowers operational efficiency."

Agree or disagree? What is your perspective? Let us know your thoughts at the Feedback button below.