An under-reported supply chain story, it seems to us, is the continued growth in private label merchandise sales.
These trends are well followed from a marketing perspective, but much less so from a supply chain angle, where there are issues around being a private label provider and maybe more importantly relative to the the supply chain skills needed to successfully run a private label program for retailers and wholesalers.
Private label is making an impact in many different sectors and product categories, from apparel to tools, though certainly the most followed is food/consumer packaged goods. To the surprise of few, private label/store brand sales rose sharply during the recession, as cash strapped and nervous consumers looked for bargains. Many private label manufacturers thived during the recession.
In the past, such private label sales levels have returned to the mean after economic recovery - but will this be true again? Or will a "new normal" and changing retail strategies permanently increase private label market share?
The chart below, from the data collectors at IRI courtesy of the Grocery Manufacturers Association, shows the steady rise in both unit and dollar sale of store brands in the grocery and mass merchant channels for consumer packaged goods.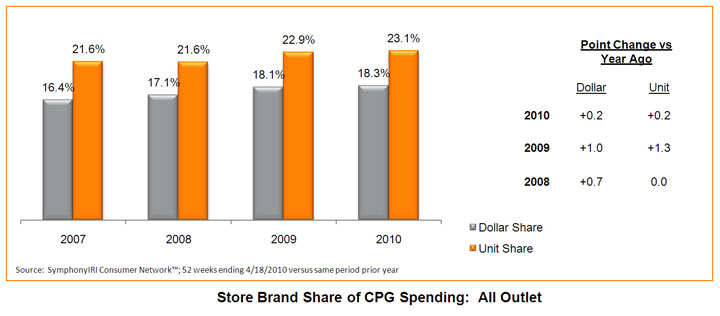 A 1.9% rise in the market share of dollars spent from 2007 to 2010 represents a swing of billions of dollars. In some cases that stayed with branded manufacturers also doing private label - but at much lower margins. In even more cases, it went to private label specialists or even offshore suppliers.
Where we go from here is literally a billion dollar question.
Agree or disagree? What is your perspective? Let us know your thoughts at the Feedback button below