The good news: an outbreak of positive economic data, especially in manufacturing, across the globe.
Many countries have now adopted the ISM Purchasing Managers Index (PMI) to gauge the direction and strength of the manufacturing sector. (See Understanding the PMI and other Indexes from the Institute for Supply Management.)
For many months, the PMI has been rising in the US, parts of Europe, China and elsewhere. In many of those countries the number has been above 50 (shown in green) since at least late 2009, a level that signals manufacturing growth, as shown in the graphic below, which, dare we say, looks sort of like a 'V-shaped' recovery (though the ISM approach would lend itself to that sort of a shape).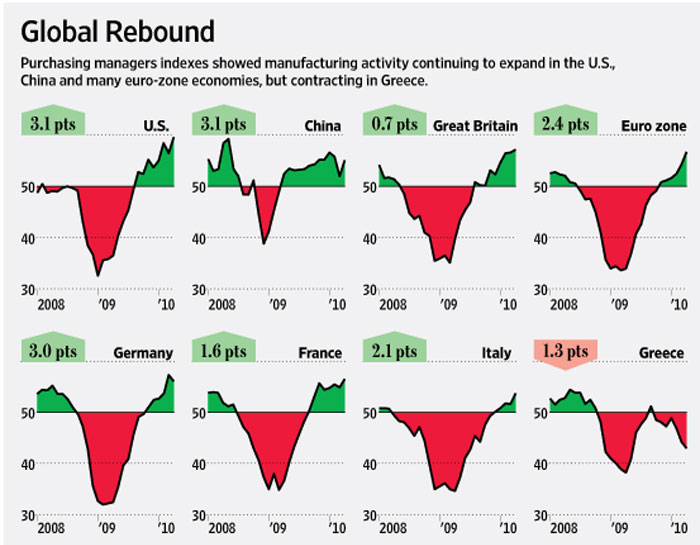 Source: Wall Street Journal
Employment has not seen much if any recovery yet in the US and Europe, and it should be noted that even with the recent growth, absolute levels of production in the US and Europe are still below their 2008 peaks (they are now above that in China and some other Asian countries).
Still, to our eye, that Geen looks a lot better than the red we lived though for way too long.
Agree or disagree? What is your perspective? Let us know your thoughts at the Feedback button below