We were somewhat stunned to learn this week that March represented the first time in almost four years that the ISM Manufacturers Inventory Index turned positive.
That's astounding.
As with all ISM Indexes, including the famous Purchasing Managers Index, a score of over 50 means growth or expansion in that area, while a score of under 50 means contraction.
In March, the Inventory Index, which is not widely reported - rose to 55.3, up a robust 8 points from February levels. That means on average companies were building inventory levels again, and strongly so.
It's about time. The last time the Inventory Index reach a level of 50 was all the way back in April of 2006 - 46 months ago - as shown in the graphic below.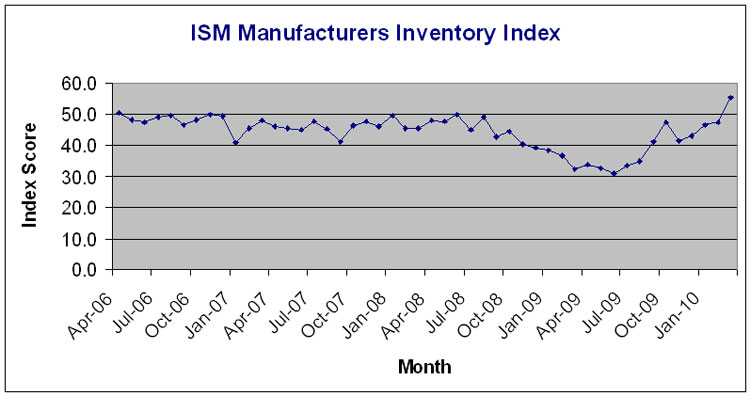 Source: Institute for Supply Management
This doesn't completely square with some other government data on inventories, but the ISM data is well respected. Note how the scores each month dipped all the way down into the 30s at the end of 2008 and didn't get back to the 40 level until late 2009.
The bottom was reached in June 2009, and started improving steadily since then, but remained under 50 until last month. That means companies were still reducing inventory levels, but at a slower rate than before (index rising but still under 50).
The data indicates just how cautious companies were about inventories in the downturn, which ironically then had the effect of exacerbating the recession. Hopefully, this positive news will have a similar re-inforcing effect.
Agree or disagree? What is your perspective? Let us know your thoughts at the Feedback button below