As use of RFID continues to mostly tread water in the consumer goods-to-retail supply chain (see RFID: Six Years after EPCglobal), an interesting approach is being proposed that could change the status quo.
That idea is to combine traditional Electronic Article Surveillance (EAS) tags, widely used to prevent shoplifting on certain high value items, with a serial electronic product code (EPC) RFID tag that can be used to automate and track movement of consumer goods.
We covered this story in depth this week (see Will Combining Tracking and Theft Protection in One Tag Drive RFID More Aggressively into the Consumer Goods-to-Retail Value Chain?), but the idea is illustrated in a new document from the EPCglobal organization below.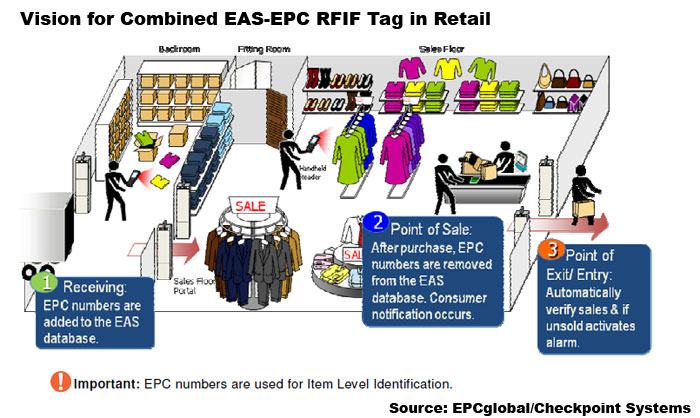 Since many manufacturers and retailers are already incurring a tag and tag application cost to apply EAS, the incremental cost of moving to RFID may be modest. In addition, retailers and manufacturers could gain the additional tracking and inventory insights available from RFID tags on the goods.
While such systems are expected to be a couple of years down the road, Germany's Metro Group stores is piloting this application right now. It just might be an important catalyst to drive RFID into retail.
Agree or disagree? What is your perspective? Let us know your thoughts at the Feedback button below.