Should third party logistics providers (3PLs) evolve to become the "supply chain orchestrators" for the client's businesses?
That's one of the questions asked in the annual Third Party Logistics report, the 2009 version of which was just released from Dr. John Langley of Georgia Tech and sponsors Capgemini, Oracle and Panalpina. To see our review of the full report, go to: More of the Same from Annual 3PL Study – but Will the Recession Serve as an Inflection Point?
The report notes that most shipper-3PL relationships remain "transactional" versus "strategic," but then suggests there is an evolution occurring in which the role of 3PLs continues to expand, ultimately to the role of "supply chain orchestrator."
What is that, you ask?
"A full orchestrator co-develops a supply chain coordination strategy in concert with the shipper, and then manages the complete cycle of supply chain activities," the report says, as illustrated in the figure below.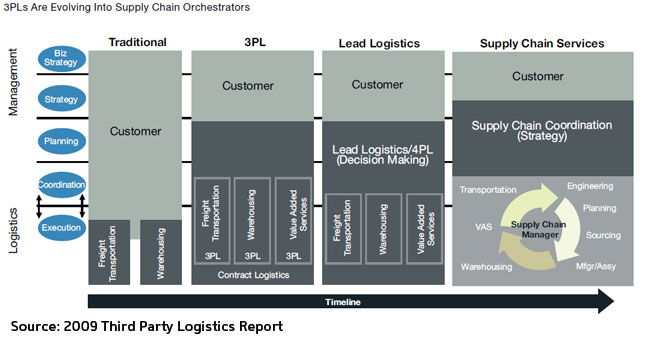 We agree with the report that this current recession may serve as an inflection point of sorts in the 3PL markets, with more companies looking to move their supply chain cost structures to become more variable, which may result in greater use of outsourcing.
The report itself notes that "shippers are willing to entrust their providers with this mounting responsibility only when that provider demonstrates extreme expertise in their industries. Shippers also need to see — and accept for themselves — readiness to share confidential data as well as to share risk" in order to move to this level of outsourcing.
We think it will be awhile...
Agree or disagree? What is your perspective? Let us know your thoughts at the Feedback button below.