By George Anderson, Editor-in-Chief, Associate Publisher, RetailWire
It used to be wondered aloud if Amazon.com would someday become the Wal-Mart of the internet. While it has become very successful, it's hard to argue that Amazon has achieved the same level of dominance in e-tailing as Wal-Mart has in the world of brick and mortar stores. To further complicate matters, it now appears that walmart.com wants very much to be the Wal-Mart of the internet and has launched a new service that encroaches on territory that Amazon has occupied until now.
Walmart Marketplace offers items from other sellers for purchase through walmart.com. The items sold through the site, a la Amazon, are shipped by partner merchants who also handle returns. It allows walmart.com to expand its offerings and generate revenue without significantly adding to its cost structure.
"We've added nearly one million new items to our online assortment with the introduction of Walmart Marketplace, making it even easier for customers to find more of what they want when shopping Walmart.com," Kerry Cooper, Walmart.com's chief marketing officer, said in a press release. "Working with select retailers, known for their strong customer service and large online assortments of new merchandise, gives our customer more reasons to choose Walmart.com when shopping online."
CSN Stores, eBags and Pro Team are retailers starting out day one with Marketplace. CSN (www.csnstores.com) offers products in the baby, home, shoes, sporting goods and toy categories; eBags sells handbags and luggage; and Pro Team is in the licensed sports apparel and collectibles business.
While Amazon and eBay are notable for expanding product offerings through partner merchants, they are not alone. Sears.com, for example, sells auto parts from the Whitney Auto Group through its site. Overstock and Buy.com also offer third-party services.
Retail consultant Burt Flickinger told The Associated Press, "Wal-Mart is fully focused on winning against every key competitor on land and online."
Discussion Questions for the BrainTrust Panel: What will Walmart Marketplace do for Walmart.com? What will it mean for its competitors online and those operating stores?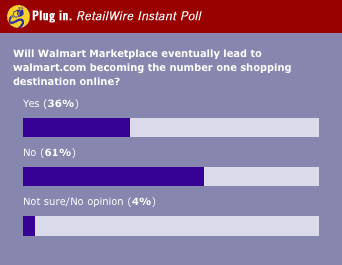 ---
RetailWire BrainTrust Comments:
I find Walmart's Marketplace move fascinating, mainly because of the differences between Marketplace and Amazon. Unlike Amazon, Walmart is introducing products that compete in the same categories and with the same products that it sells both online and in its stores. Clicking through Marketplace, it is difficult to determine which products and brands are from outside retailers and which are already in Walmart's stable (and Walmart's own products don't appear to be given top billing). Like Amazon, you aren't directed to the seller's website, so the shopping and checkout process is seamless. All of this combines to make Walmart's brand more relevant, and I'll add that it increases the perceived value of Walmart's gift cards with every new retailer added, and just in time for Holiday '09. Brilliant!
Carol Spieckerman, President, newmarketbuilders
---
This is a natural for Walmart. They have the infrastructure to pull this off seamlessly, and between theirs and the other Marketplace retailers' capacity, fulfillment should not be an issue. I think the opportunity for Walmart is to create a branded shopping experience for the discount shopper.
Marge Laney, President, Alert Technologies, Inc.
---
The comparison of Amazon and Walmart boils down to a simple question: "Is it an advantage or burden to have a physical retail presence in an online world?"
It costs a lot to operate stores and distribute products to the shelves. Amazon does not have that cost. Walmart has the distribution model fully implemented, but up till now, did not have as large an Internet presence. The interesting aspect of the expanded Walmart online presence is that it obviates the one huge advantage of the physical network. People choosing products from a different online retailer cannot necessarily run out to the physical store (if the retailer even has one) to satisfy their buying impulse. If people lose their need for immediate satisfaction and become more accepting of the two-day delivery lag, it will only be the "cold chain" that preserves the need for stores.
Bill Bittner, President, BWH Consulting
---
There is a new trend in ecommerce site strategy toward the "portal" approach. A significant amount of financial and economic sense applies to this and, as noted, walmart.com is not the first large site to follow this course. Essentially, the strategy revolves around the successful accumulation of vast numbers of monthly unique visitors to the site, and the lamentable fact of mid, single-digit conversion rates on those visitors. Buried beneath this are the millions of dollars spent on attracting those visitors and fine tuning the mechanics of the site to create an acceptable experience once there.
Don Delzell, Chief Executive Officer, Future Merchants, Says:

Some, and I agree, have argued that online assortments should follow the same best practices demonstrated in-store, and that it isn't the physical limitations that lead to the Win/Place/Show approach, but rather great marketing insight

.

---
What do you say?
Send us your comments here
Walmart.com cannot be criticized for this move as it is only one of many initiatives toward maximizing the value of the website. Were it the focus of the company, a question could arise as to the differences in strategic implementation of a "portal," as opposed to a dedicated retail channel.
In the physical world, for decade on decade, retailers with sizeable foot traffic have periodically attempted to increase the return from all that traffic by offering broadened assortments...often beyond their core competency or brand legitimacy. And all too often, they have found that simply having foot traffic is not sufficient to make the effort worthwhile. In short, selling "stuff" to "people" isn't a good strategy. In the virtual world, the "portal" strategy is similar. How that strategy is implemented may have a direct impact on the success, as will the validity behind a core assumption.
Walmart.com is already a step ahead by some of the functionality, including Site to Store for Marketplace products, single check out, and a review and public scorecard system. Moreover, the focus seems to be on providing expanded breadth and depth of assortment within legitimate product categories. However, here the core assumption comes into question. Because of the "endless aisle" phenomenon, providing a vast assortment is a logistical possibility online. The critical question is whether this really meets the needs of the consumer. Is she really looking for 86 choices in Dutch Ovens? Some, and I agree, have argued that online assortments should follow the same best practices demonstrated in-store, and that it isn't the physical limitations that lead to the Win/Place/Show approach, but rather great marketing insight.
I question the real impact of this in light of the unproven assumption that consumers want greater choice and given easy to use tools, will be more likely to buy if given that choice. There is some evidence that the reverse is actually a more prevalent consumer reaction.
Don Delzell, Chief Executive Officer, Future Merchants
---
I recently experienced Walmart's site-to-store free shipping service and was very impressed. That's something Amazon can't do, especially on smaller items like I ordered (Amazon offers free shipping on some larger purchases). I tried to make a large purchase of several small items on Amazon.com last week, but by the time the shipping costs were calculated from all the several suppliers, the cost had doubled. No sale.
Additionally, Amazon.com does not treat their partner suppliers well. I sell through Amazon.com, and they take 35% off the top. Then, I don't receive a handling charge and have to endure Amazon's calculation of shipping costs. I use only FedEx signature service, so Amazon's calculation is always lower than mine. After all that, I'm selling through Amazon at half-price.
Bottom line, Walmart Marketplace can walk through some rather large gaps in Amazon's customer and vendor services.
M. Jericho Banks, Ph.D., Partner-Owner, Select Marketing LLC
---
Let's not get too far ahead of ourselves. While this is a good move for Walmart, and their online business is sure too grow, they have a long way to go to even be mentioned in the same category as Amazon. Walmart online does a fraction (less than 10%) of what Amazon does. It's like comparing Bing to Google. Sure, Bing offers some really interesting and cool stuff that Google does not have (yet), but are they going to overtake Google? They are making small, almost unnoticeable, dents in Google's armor. I think the same will be true for Walmart, in comparing it to Amazon.
That being said, I think for Walmart's own online strategy, this is a good move. They will increase their online business, by offering even more value, convenience and value to their customers, and that is always a good thing.
Rick Boretsky, Retail System Consultant, RIBA Retail
---
Read the entire story and RetailWire discussion at:
http://www.retailwire.com/discussions/sngl_discussion.cfm/13971
Get Plugged in with RetailWire.
Membership in RetailWire.com is free to all retail and related industry professionals. Simply go to www.retailwire.com and click the FREE REGISTRATION button.