There is frequently much talk about the need for supply chain flexibility, but often not a whole lot of clarity about what it really means.
Dr. David Simchi-Levi of MIT and chief science officer at ILOG, shed some excellent light on this subect at a recent presentation at the Supply Chain Executive Forum at Georgia Tech.
As show in the graphics below, Simchi-Levi says there are several drivers of the need for flexibility and the associated supply chain strategies that a company would use. For example, as shown in chart 1, if a company has high demand variability and low economies of scale for long production runs, then building a highly flexible supply chain has many advantages. The same is true if demand variability is high and lead times are short (graphic 2).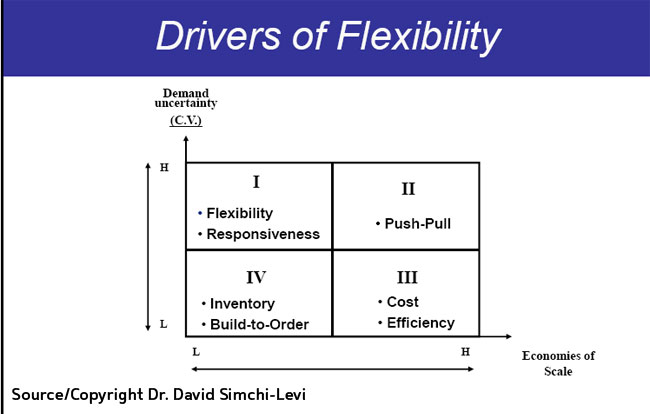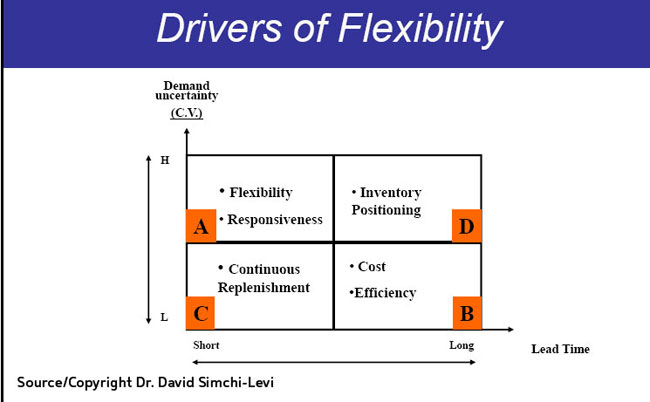 Different scenarios in terms of these variables lead to different supply chain strategies, as shown in the various quadrants. What was a non-intuitive conclusion for some in the audience is that longer lead times are not a driver of the need for greater supply chain flexibility, but Simchi-Levi demonstrated how the impact of long lead times reduces the benefits that high levels of flexibility can deliver.
Agree or disagree? What is your perspective? Let us know your thoughts at the Feedback button below.