It's interesting to see the public nature of an increasing number of companies with regards to Green/Sustainable supply chain issues. An example is HP (among a growing number of others), which recently released the first of what will be annual estimates of the carbon emmissions of its extended supply chain (See HP Releases Supplier Emissions Report - Is This a Good Thing?)
What is also interesting is that, perhaps inevitably, Green Supply Chain programs are being wrapped by some companies into an even larger framework of overall "Corporate Responsibility," as food giant Kellogg's is doing.
The company recently released its Corporate Responsibility Report for 2008 (available at: Kellogg's Corporate Responsibility Report). A "report card" of sorts taken from that report is provided below:
Kellogg's "Progress and Performance" Report Card on Corporate Responsibility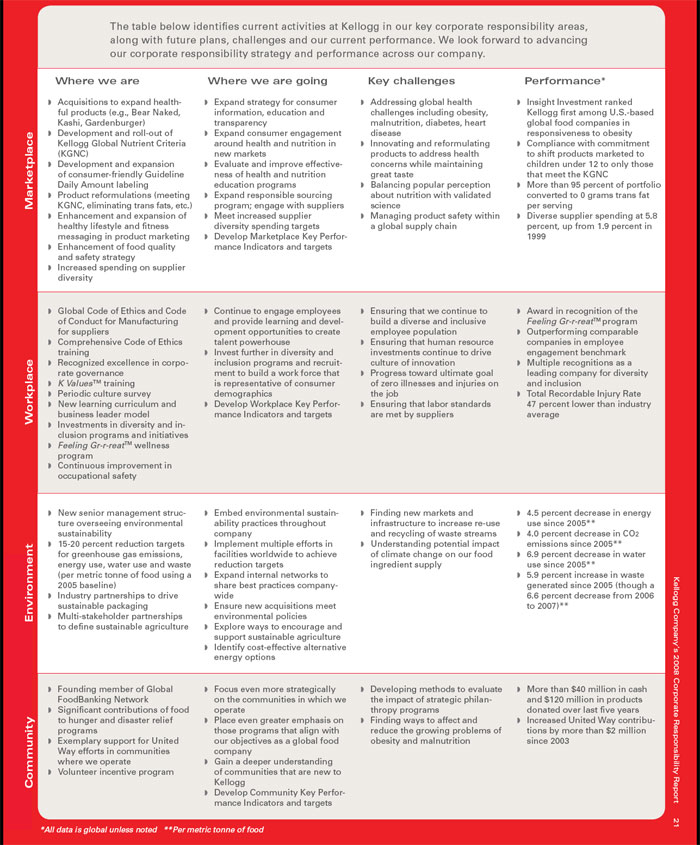 We liked the "Where we are," "Where we are going," "Challenges," and "Performance" structure of the scorecard.
The supply chain comes into play in several areas. For example, Kellogg's says it is working on food safety and quality issues, as well as increasing supplier diversity. The food safety issue will require "increased engagement with suppliers," the chart says. It is also expanding its "Code of Conduct" program for suppliers.
On the Green Supply Chain side, Kellogg's notes it has created a new senior executive position responsible for Sustainability, and says it has set a target of 15-20 percent reduction for greenhouse gas emissions, energy use, water use and waste (per metric tonne of food using a 2005 baseline). Thus far, it has achieved a 4.5% reduction in those areas, according to the report.
What is crystal clear for many supply chain professionals is that the job description will increasigly include Green and supplier issues that were just not a factor until the recent past.
Agree or disagree? What is your perspective? Let us know your thoughts at the Feedback button below.