For many, if not most companies, demand variability is increasing. In short, this means that actual customer demand is becoming less consistent, making it harder to forecast than ever.
Obviously, this variability can result in a host of problems, mostly related to inventory levels and customer service, which can have a significant impact on the top and bottom lines.
The graphic below is from AMR Research, which did a survey to determine what factors were most associated with this increasing demand volatility.
As presented by AMR's Lora Cecere at our recent Videocast on "Mastering Lumpy Demand," AMR found the pace of new product introductions, SKU proliferation, and specialized retail programs/promotions were the three top factors. (That Videocast is now available on-demand: Mastering Lumpy Demand.)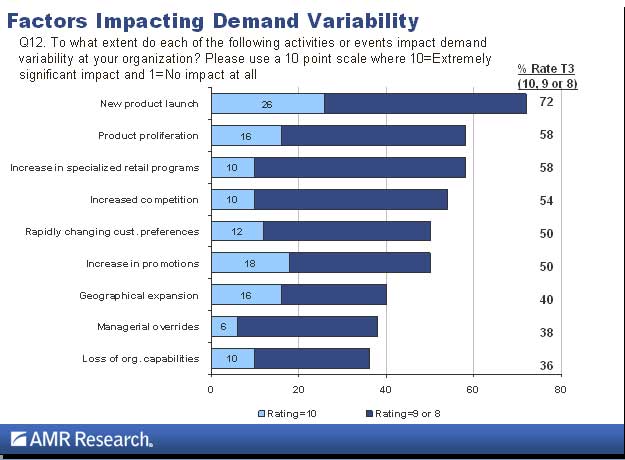 Source: AMR Research
For an increasing number of companies, the percent of total revenue coming from so-called "Long Tail" products is increasing, meaning getting these lumpy demand products right can have an important impact on overall company results.
Agree or disagree? What is your perspective? Let us know your thoughts at the Feedback button below.