There is a lot of talk about creating the "agile" supply chain - but what does that really mean? Are adaptability and agility in the supply chain the same thing?
No, according to Jim Uchneat of Viewlocity, on a recent videocast from Supply Chain Digest. Uchneat said agility has a shorter, more real-time context (how to react to information and changes right now), whereas adaptability is a more strategic concept, related to how quickly a company can implement stategies and initiatives based on market changes, customer requirements, new opportunities, etc.
Those differences are illustrated in the graphic below. The On-Demand version of this excellent broadcast can be found here: The Agile Supply Chain: Why it Matters, How to Get There.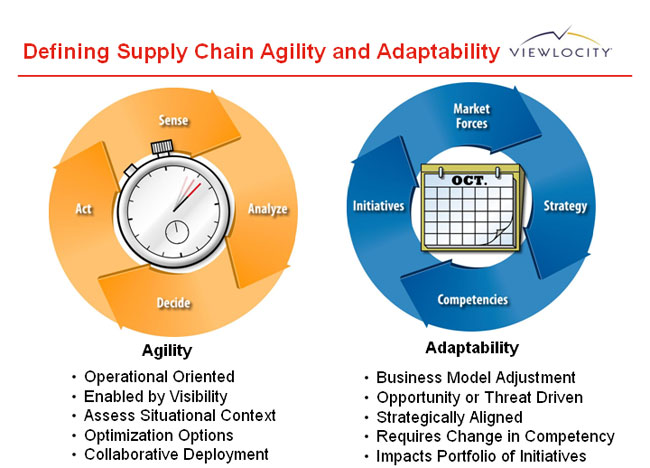 Source: Viewlocity/SCDigest Videocast
Is there ROI in improving supply chain agility and adaptability? Uchneat says yes - that it is possible to compute an "Agility Value," for example, which then must obviously be compared to the costs to improve that agility.
Clearly, in these dynamic times, flexibility by whatever name you call it is pretty important for success.
Agree or disagree? What is your perspective? Let us know your thoughts at the Feedback button below.