As always, the annual Third-Party Logistics study was released at the CSCMP Conference in Denver this week, under the leadership of Georgia Tech's Dr. John Langley.
It has also become perennial that the hundreds of respondents say they are not well satisfied with the technology capabilities of their 3PL providers. As shown in the graphic below, taken from the 2008 report, only about 35% of respondents are satisfied with the technology capabilities of their 3PLs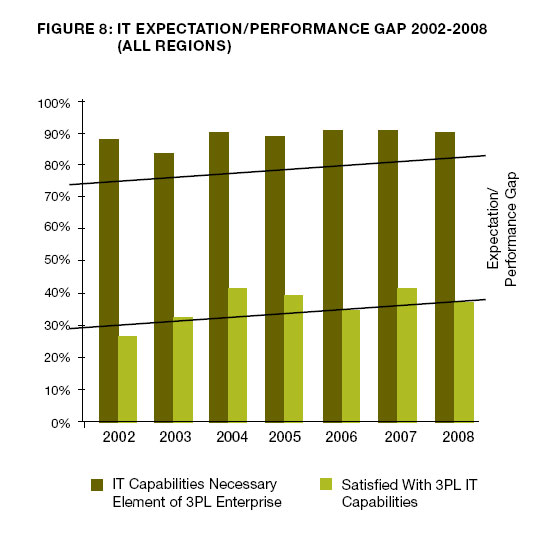 Source: 2008 Third Party Logistics Study
"One area warranting particular scrutiny is a 3PL's planned technology investments; the gap between user IT expectations and 3PLs' ability to meet them persists," the report notes. "It's possible that because of all these issues, the percentage of budget devoted to outsourcing logistics, and the services outsourced, haven't changed much over the past several years. Perhaps more investment on the part of 3PLs, and more willingness from users to try additional 3PL services, is required to push the results of 3PL relationships to the next level."
Agree or disagree? What is your perspective? Let us know your thoughts at the Feedback button below.