As we reported earlier this week, after more than 100 years as the number one nation globally in terms of worldwide share of manufacturing output, the US is set to lose that position to China in 2009, according to new research by the economic analysts at Global Insight, in work done for the Financial Times (see For First Time in More than 100 Years, US Set to Lose Place as World's Largest Manufacturer.) That's four years earlier than the prediction the firm made not long ago that the positions would be reversed in 2013.
However, as shown in the graphic below, the relative positions change even more dramatically in the ensuing years.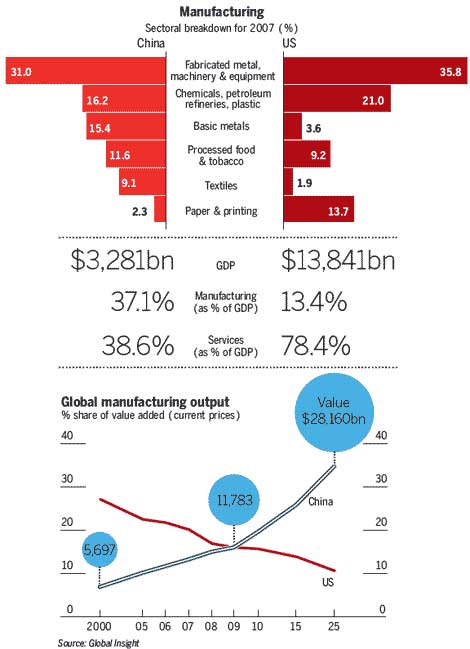 Source: Financial Times
By 2025, according to Global Insight, China's global manufacturing market share will have risen to 35%, while the US share will have fallen to about just 10% of the world total.
That doesn't necessarily mean that US manufacturing output is declining in absolute terms - it has been rising even as China is set to take the top spot, just not as rapidly as China's phenomenal growth.
Agree or disagree? What is your perspective? Let us know your thoughts at the Feedback button below.