There is clearly a global groundswell of interest in the Green Supply Chain - but so far the discussion may be well in front of real action.
That observation is supported by a recent McKinsey study of some 2000 executives, which found that the professed importance of climate change hasn't yet led many to actually factor in Green issues in Procurement and Supply Chain Management decisions.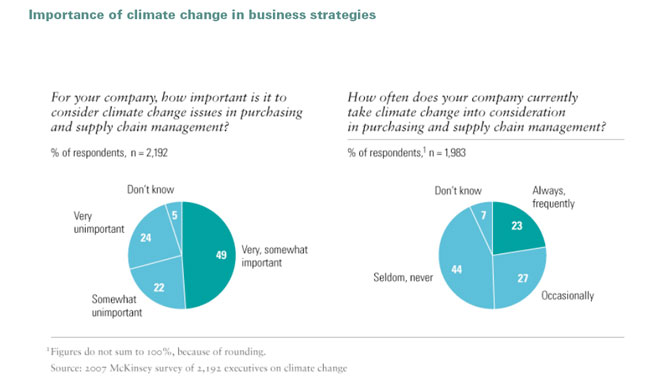 As can be seen from the chart above, while a vast majority of these executives (73%) believe it is highly or somewhat important to consider climate change issues in supply chain decisions, only about 23% are actually doing so on a frequent basis.
So, the real question is whether there is just a lag between strategy and action, or is it that companies are finding its hard to match the rhetoric with decisions that could impact the bottom line?
Agree or disagree? What is your perspective? Let us know your thoughts at the Feedback button below.