By George Anderson, Editor-in-Chief, RetailWire
New research from the University of Arkansas' RFID Research Center shows that radio frequency identification technology has a potential role to play in theft deterrence in the apparel and footwear business.
The study sought to find how well RFID would act in an electronic article surveillance (EAS) capacity. Like regular EAS, which sets off an alarm as a tagged item passes through a door's sensors, RFID signaled when an item was leaving the store illegally. The RFID tagged items also provided additional information not available with EAS including the specific items and quantity removed.
"When something is stolen, the store gets a double hit. They know something is being stolen but, they don't know what it is," Bill Hardgrave, director of the RFID Research Center, told RFID Journal.
"Overall, we were pleased with what we saw, but the research is far from over," he added. "RFID did well against [traditional] EAS."
The University of Arkansas testing simulated typical shoplifting scenarios in stores and tracked items using a variety of technologies including RF and acousto-magnetic (AM) EAS technologies and EPC Gen 2 tags.
Researchers along with ADT and Checkpoint Systems tested EAS technology and RFID systems in "noncooperative environment" scenarios including using various techniques to shield tags such as holding them under the arm or placing them inside a hat or foil bag.
A combination of EAS and RFID appears to give retailers the best chance of putting a crimp in store shrink.
One area not tested was the susceptibility of RFID tags to be removed without being disabled.
Randy Dunn, director of RFID sales and marketing at ADT, said a solution that combines a RFID chip placed inside an EAS tag may make it difficult enough to discourage shoplifters from attempting to tamper with the combination technology.
Discussion Question for the BrainTrust panel: Do you see a significant opportunity for RFID technology to help curtail shoplifting in retail stores? Do you think it likely that RFID will displace EAS by stores seeking to reduce shoplifting or will a combination of EAS and RFID become the preferred solution?
RetailWire Instant Poll Results: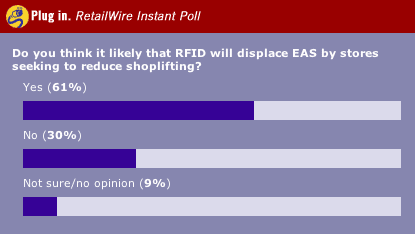 RetailWire BrainTrust Comments:
RFID will most likely only become mainstream from its use in reducing shrink. Early Rx and HBC adopters know RFID can reduce shrink in the supply chain. This loss reduction is the real justification for capital investment in the technology.
Retailers are adding RFID readers at the back door. This tells you what has entered the store, but also is a deterrent for employee theft. Now place a reader at the store entrance and you have a replacement for EAS. The good part is, just like tickets, retailers can have the supplier add the RFID tag, not the distribution center or by store labor.
W. Frank Dell II, CMC, President, Dellmart & Company
Mark Lilien, Consultant, Retail Technology Group

The goal of retail loss prevention: reduce shrink at the lowest possible cost. Not catch crooks. Not enforce the law. Not put folks in jail.

---
What do you say?
Send us your comments here
I was speaking to an LP officer at one of my clients about the whole RFID issue and here are some of her thoughts: Most chains have reduced or are in the process of reducing Loss Prevention budgets and this is a never ending problem. RFID is an expensive alternative (her words) to the EAS sticker and most locations have either a Checkpoint or Sensormatic system in place. Ripping that out and installing RFID equipment is just too expensive and doesn't really deter shoplifting any more than EAS. Her only positive thought was that unless the RFID transmitter is installed or made into the product, there may be a better chance of tracking. The other issue she had is that who's going to man this expensive and complicated equipment? Labor budgets are the lowest ever in retail and workloads for frontline people are already huge.
I'm not really seeing RFID as the miracle technology that will save shrink. If anything, it looks expensive and complicated, which could be a turn off to many chains. Wal-Mart seems to be embracing it, but then again, their shrink numbers probably surpass the GDP of some nations.
Doron Levy, President, Captus Business Consulting
The goal of retail loss prevention: reduce shrink at the lowest possible cost. Not catch crooks. Not enforce the law. Not put folks in jail. That's why retailers use fake cameras. They're cheap and no one has to be paid to watch the images.
Yes, RFID could reduce shrink, but so could increasing the floor coverage payroll. The latter might actually result in better sales. But most retailers don't think payroll increases lead to better profits. And RFID is more expensive than current LP tags and stickers. If RFID was .00001 cent cheaper than conventional LP technology, thousands of retailers would've bought it years ago. There's no audience more motivated to save money. But almost no one believes the extra cost is worthwhile, after hearing 17 years of RFID propaganda including 25,968 press releases and 7,999 tests and 4,597 studies and 22,755 speeches and 4,239 seminars and 12,777 newsletters.
Mark Lilien, Consultant, Retail Technology Group
Read the entire story and RetailWire discussion at:
http://www.retailwire.com/Discussions/Sngl_Discussion.cfm/12816
Get Plugged in with RetailWire.
Membership in RetailWire.com is free to all retail and related industry professionals. Simply go to www.retailwire.com and click the FREE REGISTRATION button.