With continued transportation challenges and better corporate enlightenment as to the role of transportation in overall supply chain excellence, investment in technology, such as Transportation Management Systems (TMS), to support transportation processes has been very strong over the past few years.
As a result, we were interested to see the findings from the 2007 Masters of Logistics report, from Drs. Karl Manrodt (Georgia Southern University) and Mary Holcomb (University of Tennessee), which included the chart below, showing the different types of technology systems the 1300 respondents to the survey reported they used as the primary transportation platform.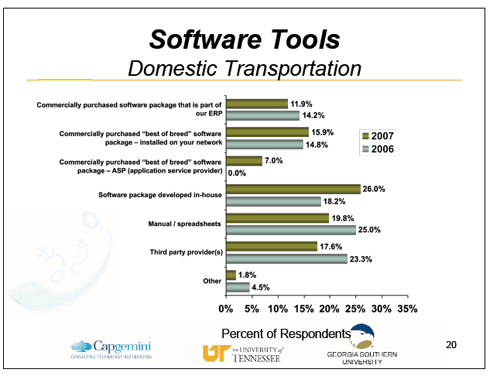 Source: 2007 "Master of Logistics" Report
While the results aren't truly scientific, the large number of respondents increases the validity of the results. Interestingly, at 27%, in-house developed TMS technology was the number 1 source. "Manual/spreadsheets" was a close number 2.
As the chart shows, more best-of-breed systems are in place (15.9%) than the TMS modules of ERP systems (11.9%).
While SCDigest believes that these results are, in general, pretty accurate, we would place less emphasis on the year-over-year changes, which are more likely the results of survey fluctuation than actual market shifts. For example, it seems unlikely that use of in-house developed TMS technology actually increased from 2006 to 2007, as the survey results indicate. Because the respondent pool changes each year, such comparisons are difficult.
Agree or disagree? What is your perspective? Let us know your thoughts at the Feedback button below.