By James Tenser, Principal, VSN Strategies
The In-Store Implementation Sharegroup has just released its first work product, a working paper, titled In-Store Implementation: Current Status and Future Solutions. It is time for the retail consumer products industry to coalesce around a new set of best practices centered on merchandising.
More than a year in the making, the 15,000-word document argues in favor of a collaborative, industry-wide initiative aimed at closing the implementation gap that today limits effectiveness of merchandising, promotion and category management in the retail consumer product industry.
The ISI Sharegroup was formed in 2007 by like-minded visionaries from consumer packaged goods, retail, merchandising services, technology and consulting firms. Member companies include Anheuser-Busch, Driveline, General Mills, Giant Eagle, Nestle-Purina, PepsiCo, Procter & Gamble, RetailTactics, Schnuck's, The Partnering Group, and VSN Strategies. [Editor's Note: James Tenser is the principal author of the ISI report.]
In-store implementation, or ISI, refers to the collective physical and informational actions performed at retail to actualize merchandising, marketing and media plans in the store. ISI encompasses compliance, measurement and communications activities, and is defined by a Plan-Do-Measure process cycle that controls implementation plans and work and communicates implementation signals.
Sharegroup members estimate the available bottom line opportunities from improved implementation approach one percent of gross product sales, or $10 to $15 billion of the $1.5 trillion total U.S. annual volume across the food, drug, and mass channels. Contributing factors include an estimated $46 billion in excess shelf inventory in grocery, costing $3 billion in lost profits; the ever-persistent out-of-stock problem, reported at 8.3 percent of items overall, amounting to tens of billions of dollars in affected sales; and as much as $25 billion in ineffective promotional spending annually by CPG manufacturers.
"Excess inventory and out-of-stocks are results of inadequate shelf management and inability to manage and monitor shelf conditions," said Dr. Brian Harris, founder and co-chairman of The Partnering Group, who chairs the ISI Sharegroup. "No level of Category Management or supply chain process sophistication can fix these problems in the absence of an improved in-store implementation discipline."
Sharegroup members are calling for an industry-wide culture of compliance to help resolve systemic merchandising challenges. The working paper proposes a path toward greater cooperation between retailers, manufacturers and third parties that would ultimately enhance the customer experience and industry profitability.
Discussion Question for the BrainTrust panel: Where are the best practices for in-store implementation? What recent successes hold potential to be expanded into new industry standards for managing merchandising at store level?
[Author's Commentary] A primary goal of the ISI Sharegroup will be to identify current best practices in in-store implementation and other aspects of store-level compliance. Sharegroup members have agreed to contribute case studies based on their own projects. Other firms and industry groups are invited and encouraged to join the dialog and to write and submit case studies toward the assembly of a library of best practices.
The ISI Sharegroup members recognize that this goal is bigger than any of us. We hope the release of the Working Paper serves as a catalyst for broader industry-based initiative, which leads us to a new set of superior practices for In-Store Implementation. How can your company play a role in establishing the new culture of compliance?
Download the Full ISI Sharegroup Working Paper or the Executive Summary: In-Store Implementation: Current Status and Future Solutions www.instoreimplementation.com [free reg. required].
RetailWire Instant Poll Results: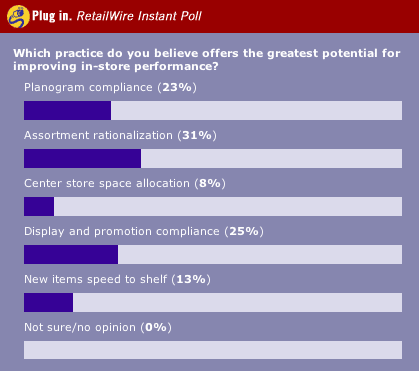 RetailWire BrainTrust Comments:
Part of the reason why in-store implementation is so challenging is because it is actually very complex. So I'll only tackle one of the many issues I see getting in the way, and that's store manager incentives around inventory accuracy.
With a few exceptions, such incentives are pretty much non-existent. But store managers are incented around loss prevention and minimizing inventory write-offs -and without accurate inventory, it's nearly impossible to maintain a high service level and avoid out-of-stocks.
While loss prevention is a big concern, I've seen many instances where the incentive structure around minimizing shrink flies right in the face of keeping inventory counts accurate and keeping product on the shelf -and ultimately, that's a much more compelling business case.
-Nikki Baird, Managing Partner, Retail Systems Research
Doron Levy, President,
Captus Business Consulting, Says:

Equally important is the why. Why are we doing this? Getting associates excited about change requires explanation. If crews are on board with the directive, it will be completed in a more efficient manner.

---
What do you say?
Send us your comments here
It's all about communication. Frontline staff can only implement and execute what they understand. Communications must come weeks in advance so that crews can prepare for the job. Most memos should come down at least 6 weeks before execution date with a 3 and 1-week reminder. Clear and concise direction must be maintained. Equally important is the why. Why are we doing this? Getting associates excited about change requires explanation. If crews are on board with the directive, it will be completed in a more efficient manner.
Doron Levy, President, Captus Business Consulting
I agree with Nikki that accurate inventory is imperative. I further believe that process to automated replenishment and on-shelf availability provide the greatest benefit to both retailers and consumers. Attempts to correct high out-of-stocks by the manufacturers only impact a portion of the items in the store. Retailers need to take action on making these improvements across the entire range of products in their stores.
Daniel Brandon, EVP General Mgr, SAF USA Inc
Do we truly need 25,000 to 40,000 SKUs in a supermarket when the average consumer buys 200 or so regularly? As one industry observer (and I honestly can't remember who it was) said recently--"are we running retail stores or warehouses?" The answer is warehouses of course, and finding out why is as simple as a John Grisham novel...follow the money. Manufacturers driven for top line growth pay slotting fees for the 33rd flavor of gelatin and retailers driven by 1% profit margins take them.
The ISI sharegroup has outstanding members and ideas and will no doubt make progress for the industry--but until we collectively bite the assortment bullet, the phrase "creeping incrementalism" comes to mind.
Ben Ball, Senior Vice President, Dechert-Hampe
Read the entire story and RetailWire discussion at:
http://www.retailwire.com/Discussions/Sngl_Discussion.cfm/12923
Get Plugged in with RetailWire.
Membership in RetailWire.com is free to all retail and related industry professionals. Simply go to www.retailwire.com and click the FREE REGISTRATION button.