As we've reported extensively, Transportation Management Systems (TMS) continue to enjoy very strong market growth and adoption.
Nonetheless, by some accounts, only 20-30% of even large companies have implemented strong packaged TMS solutions.
But recent research by Forrester finds that isn't for a lack of benefits. In a recent report on TMS, it says that on average, companies deploying new TMS technology expect savings of 8% in terms of total freight spend - a sizable number for almost any company.
The graphic below, taken from the Forrester report, takes the benefits of TMS a bit further, looking at how TMS adopters described both quantitative and qualitative benefits from the systems.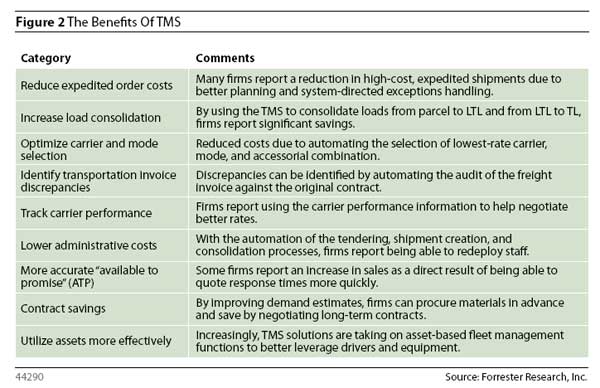 An important new wrinkle is the growth in on-demand TMS solutions, which are becoming increasingly popular, though traditional deployments are still the majority.
Agree or disagree? What is your perspective? Let us know your thoughts at the Feedback button below.