SCDigest Editorial Staff
Breaking Down the Walls of Silence
While corporate giants such as Dell and Wal-Mart get most of the supply chain spotlight, below the radar a number of lesser known or mid-sized companies are making great things happen through supply chain excellence.
One such company is Adtran, an approximately $500 million manufacturer of a variety of computer networking gear, sold to large telcos and other companies.
SC Digest Says:

Adtran's case is typical, in that it often takes a crisis or "wake up" moment to lead fundamental change.

---
What do you say?
Send us your comments here
S&OP Supports Supply Chain Transformation
Several years ago, under the leadership of Tom Dadmun, VP of supply chain, Adtran embarked on a supply chain transformation, in which Sales and Operations planning has played a foundational role.
Adtran's case is typical, in that it often takes a crisis or "wake up" moment to lead fundamental change. For Adtran, that wake-up call included rising inventories and decreasing customer satisfaction to the point that the company felt a significant level of financial pain and market risk.
At one point:
Forecast accuracy was about 40%.
It took 5 to 10 days to respond to customer delivery requests
Sourcing globally extended lead times to 10 to 12 weeks in a market that demanded short lead times
Financial returns for the business were well below industry averages
Adtran was challenged by the complex environment in which the company operates: short product lifecycles, difficult to forecast products, many engineering changes, short order delivery cycles with long supplier lead times, little or no ability to "shape" demand.
All this led to "a 'perfect storm' that was leading to hits on the bottom line," Dadmun said.
Particularly vexing were the various "walls of silence" that restricted the flow of information; for example, little or no information about why the forecast was missed. "We'd ask, 'Why did we miss the forecast?'" Dadmun said. "'Because customers didn't order' would be the response. But why didn't they order? That we didn't know."
There were also walls of silence between the supply side and marketing, and the supply and sales side and engineering. "Only engineering really knew what dates they were going to hit in terms of new product introductions," Dadmun noted.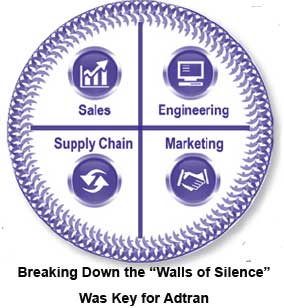 "Often, we were building supply capabilities and revenue plans that didn't reflect the true schedule." Faced with this situation, Adtran began a number of initiatives to improve results. This included forming a multi-functional team across supply, sales, marketing and engineering to look at the problem, investing in new supply chain technology, and ultimately starting an effective S&OP process.
Tools Demonstrate Value Early On
There were some key moves. First, to get buy-in, Adtran worked with its prospective technology vendor (i2) to back-test forecasting results with its demand planning tool for 20 of the company's top SKUs over the past 2-3 years. The surprising insight: the tool's baseline forecast (mostly driven by history) was better for 18 of the 20 SKUs than the forecast team's results – an observation that quickly generated interest and support from execs and others.
Adtran also brought in outside consultants to help them benchmark against best practice in this area. This also worked to show Adtran execs that they were not operating at close to an industry-leading level. "It delivered a wake-up call," Dadmun noted.
Other lessons learned include:
There is no change without some suffering – be prepared to
have poor processes and results exposed to execs and peers
Develop early proof points, perhaps in a pilot mode, to
create buy-in
Benchmark to be able to say "I've seen it done."
Use some outside experts/consultants – if this is new
territory for your company, partner with others that have
been down the path
Work hard to develop other internal champions besides
yourself
Celebrate success – when one planner hit 72% accuracy, the
highest level, they took the whole team out to dinner
"We have to be able to get to the point where we can drill into the demand side of the equation with the same level of detail and insight that we can on the supply side," Dadmun added.
The Results
The overall supply chain improvements, and the Sales and Operations Planning process in particular, has made Adtran a better aligned and more responsive company. S&OP enables the company to have a "closed loop" process that aligns supply, demand, PLM and inventory.
Forecast accuracy has increased substantially, for example. That, plus better supply and demand alignment, has also led to improved on-time performance to customers. Yet, Adtran has been able to make this improvement in customer service while reducing the inventory levels required to support the sales levels by millions of dollars.
Decision-making across all areas of the supply chain have improved, as a result the new decision-support tools, a more rigorous S&OP process, and the ability to focus primarily on exceptions and issues that specifically need management attention.
Technology, as with most companies has played a supporting yet critical role. "You can say you're going to change your mind-set about forecasting and reaching consensus [through S&OP]," he said, "but if you don't have the data available to discuss the information within a forum of managers who have already looked at their own metrics, then you don't really have an S&OP meeting."