LMS Versus the "Do Nothing" Scenario
With growing sales and store openings, the company also needed to increase throughput in its new DC, for which it had a long term lease. LMS offered the ability to drive increased throughput in the same footprint, and without the need for major capital investments in automation. Projections for a "do nothing" scenario showed a substantial increase in DC labor costs as store openings increased over the next years.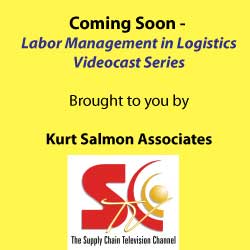 The overall story should be familiar to those familiar with Labor Management. With the use of an outside consultant (enVista), the company first developed discrete, engineered standards for more than 30 individual tasks in the DC. In Sports Chalet's cases, full time-motion studies were utilized; other companies choose to use standards databases, such as Master Standards Data or MOST.
The standards were then implemented in conjunction with new LMS software from HighJump. In additional to being able to measure and report on individual performance against the calculated standard for each piece of work, Belardi said the flexibility to construct the standard is key. For example, the calculation engine should be capable of considering product attributes (weight, dimension), services required (ticketing, EAS tags, inspection), and shift related factors (fatigue factors by task, hour and shift).
Like many companies, Sports Chalet found that performance at the start was well below that calculated as a fair and achievable level. For example, in hard good receiving, initial performance was only 67% of standard. In one picking area, it was 76%. Within 12 weeks, receiving productivity rose to 92% of standard, and the order picking area to 97%, both delivering substantial cost reductions and throughout gains.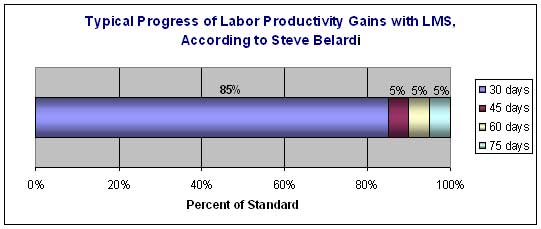 While impressive, those gains are common for companies implementing LMS.
A less understood component of success though is the fundamental "paradigm shift" Belardi and others note must occur for Labor Management to reach its full potential.
Like most companies, Sports Chalet had previously relied on traditional static measures (lines per hour, etc.). Belardi says these measures were inherently unfair, counting easy tasks the same as more difficult ones, and not easily translated into exactly what was needed to drive productivity improvements. The role of front line supervisors was also typical, more focused on "management by observation" than the data, with uncertain impact on productivity.
Cultural Shift in the DC
A key element of Sports Chalet's LMS project was making a change in the culture and mindset about performance, Belardi said. Key elements of that change include the following:
Development of a "performance-based" culture from bottom to top. Supervisors and DC managers are also in effect on the standards systems, as the performance goals and results from associates "roll up" to management personnel.
Associates understand they are responsible for their own performance, and ultimately their own pay (Sports Chalet hopes to add an incentive program soon). Takes away the excuses, and encourages associates to identify barriers to performance. They operate more like entrepreneurs.
Supervisors manage by the numbers, and become coaches for those having trouble meeting standard. "They become problem solvers, not just "enforcers," said Belardi. The program should force management to remove productivity barriers.
"It's critical that everyone views this as a lasting program, not a one-time effort." Belardi added.
Small things to reinforce that cultural change can be key. For example, Sports Chalet would sometimes post mid-shift performance results at break times, generating some friendly but valuable competition between different associates and work group areas.
The Results
As the performance against standard numbers cited above should indicate, Sports Chalet has generated significant savings and throughput gains from the LMS program.
Total labor savings have been more than 10%, and the actual productivity gains for direct time hours has generally been greater than 20%. Throughput gains within the existing DC footprint have risen per expectations, and distribution costs as a percent of sales have been reduced meaningfully versus the "do nothing" scenario.
"You will generate 10-15 percent productivity improvement almost immediately," Belardi said.
What do you think about Sports Chalet's experience with LMS? Is changing the culture the big difference in success? Send your comments at the feedback link below.