Gene Tyndall, whose long career in supply chain management includes currently contributing the Executive View column for Supply Chain Digest, had his exceptional contributions to the industry recognized this week with his induction into the Global Institute of Logistics' Hall of Fame during a meeting in Atlanta.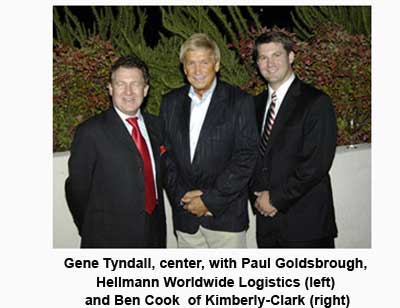 Tyndall is currently of President of Supply Chain Executive Advisors, a global firm comprised of senior executives who provide strategic advice and management counsel to senior business and public officials around the world, as well as SCDigest Contributing Editor. (See his most recent piece: Executive View: Counterfeiting and Supply Chains).
After a stint in the Navy, Tyndall held several supply chain and logistics positions in the Washington DC area before he was asked in the late 1970s to go to the US Department of Transportation to work on deregulation of the motor carrier, rail, and aviation industries.
In 1981, Tyndall went to work at consulting firm Ernst & Young, where he ultimately built a national and then global supply chain and logistics practice. He helped dozens of companies first understand and then capitalize on the opportunities in logistics and the, new at the time, concept of supply chain management.
The practice thrived, building to over 1000 consultants on a global basis. Tyndall and others on the team were instrumental in some of Dell's original supply chain designs.
Those experiences led to one of the more popular and influential books in the field, Supercharging Supply Chains, in the late 1990s, which he co-authored with Chris Gopal.
Tyndall left Ernst & Young in 1999 to take on the role of President of Ryder Global Logistics, a unit of Ryder Systems, which took him to Miami. After his retirement from Ryder a few years later, he stayed in the Miami area, contributing to the University of Miami's Center for Advanced Supply Chain Management, plus running his consulting company and serving on several corporate boards.