By George Anderson, Editor-in-Chief, RetailWire
Customer centricity is what Amazon is all about and the retailer knows a significant aspect of what its shoppers want is getting their products when they want them, in some cases on the same day.
According to the Seattle Post-Intelligencer, Amazon's transportation director Mike Bhaskaran said the company was looking to expand its same-day delivery service beyond areas within New York City where it is currently offered, ideally to locations "all over the country." Right now, orders in New York that are received by 11:00 a.m. can be delivered to some parts of the city the same day. Costs vary based on what is being shipped.
An analyst with ThinkEquity Partners, Edward Weller, told the Post-Intelligencer that same-day delivery is a very small part of Amazon's business. The company has continued to emphasize its Amazon Prime service where customers can receive second-day delivery of all orders throughout the year for a $79 fee.
Discussion Question for the BrainTrust panel: Is speed of delivery a critical part of success in e-tailing? What do you see as the potential for same-day deliveries and what other markets do you think could support such a service should Amazon offer it?
RetailWire Instant Poll Results: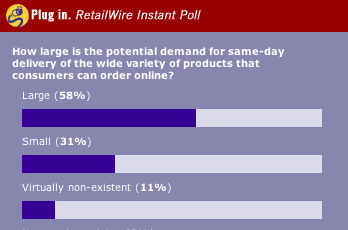 RetailWire BrainTrust Comments:
As U.S. consumers urbanize and population densities increase, the economic and logistical feasibility of delivery comes within reach. The stars are aligning for this model--especially for center store items. My only change to this question--it's not "online," it's "mobile" ordering.
- Liz Crawford, VP Consumer Strategist, Iconoculture
Interscope's Alison Chaltas Says :

Certainly in today's immediacy culture, speed is a benefit that consumers are willing to switch and pay for.

---
What do you say?
Send us your comments here
Certainly in today's immediacy culture, speed is a benefit that consumers are willing to switch and pay for. Though what is more important is clear expectations on delivery time and meeting or exceeding them. Why do shoppers get more annoyed over a 20 minute wait at the drug store pharmacy counter than three day shipping policies from a mail order pharmacy? Because they expect retail pharmacies to hand them the product "now" and know that the trade off to mailed scripts is time.
- Alison Chaltas, Principal, Interscope
Years ago, Barnes & Noble's web site started same day service in Manhattan. Certain fast food restaurants offer immediate delivery for web orders. Instant gratification is always a great lever. Too bad it's very hard for Amazon to make it profitable. The article mentioned how Amazon reduced its price on a best seller. What good is being customer-centric if you lose more and more money on every order? If sales of loss leaders triple, what has the retailer gained? The customer loyalty of cherry pickers isn't worth anything.
- Mark Lilien, Consultant, Retail Technology Group
Shopping is either functional or entertaining. Online shopping is more functional and brick and mortar book stores are more fun/entertaining. You should see the independent book seller near me on a Saturday night--packed with people over 30! There is no way that Amazon, as an online retailer, could ever match the fun of going to a Barnes & Noble, browsing and having a cup of Starbucks coffee while figuring out which of 10 books to actually buy.
So, which options for growth does that leave for Amazon as a bookseller? Well, faster, quicker shipping certainly makes sense as an incremental improvement in service. Of course, the big win would come if/when Amazon opens brick and mortar stores in Times Square, Michigan Ave., etc. and gets into the entertainment/experience business. The operational efficiencies of delivery would be minor compared to the impact of mega-stores at prime locations, IMHO.
- Joel Rubinson, Senior Vice President, General Manager Solutions, Synovate
Read the entire story and RetailWire discussion at:
http://www.retailwire.com/Discussions/Sngl_Discussion.cfm/12175
Get Plugged in with RetailWire.
Membership in RetailWire.com is free to all retail and related industry professionals. Simply go to www.retailwire.com and click the FREE REGISTRATION button.