SCDigest Editorial Staff
The News: The always interesting Bear Stearns quarterly Shipper's Survey (called the Supply Chain Indicator) was released earlier this month for Q1 2007.
SC Digest Says:

Importers are staying very focused on keeping ocean container rate increases down in the face of rising rail costs for full international to domestic multi-modal moves.

---
What do you say?
Send us your comments here
The Impact: More evidence that the "Perfect Transportation Storm" of 2005 is largely gone for now (but will be back, we expect), with base rate increases down and capacity up among most modes. Rail carriage remains one exception, and then there are those pesky fuel surcharges….
The Story: We look forward every quarter to the release of the Shipper's Survey results from investment firm Bear Stearns, under the guidance of analyst Ed Wolf and several colleagues. The result of survey input from hundreds of shippers, the report provides perhaps the most detailed view of what shippers are thinking and doing of any report available in the industry. (For the full report, go to The Bear Stearns Supply Chain Indicator Q1 2007).
The report for Q1 2007, released earlier this month, shows continued changes in the supply-demand situation favorable to shippers, as slowing demand plus rising capacity in the trucking sector helps keep costs down.
Key findings include:
Shippers see moderation in overall transportation spending in 2007, with an average estimate of just a 1-1.5% increase in rates across all modes after the effect of rising volumes is factored out. That's down .5% from a year ago.
There is still a "record setting" perception of overcapacity in the truckload market, giving shippers the edge. An amazing 80% of respondents believe there was overcapacity in the TL market in Q1, the highest level in the history of the survey. By comparison, in the last major downturn for the trucking industry in 2001-02, only 50-60% of respondents saw overcapacity among truckload carriers.
From the capacity situation, shippers have mild expectations for rate increases by TL carriers in 2007. On average, shippers expect just a 1.3% increases in TL rates for 2007 before fuel surcharges, down from 3% in the Q1 2006.
There are also strong perceptions of overcapacity in the LTL market, and pricing expectations for LTL carriers is the lowest since 2002. Shippers expect 2007 LTL rate increases of just 1.5%, down from 2.5% a year ago.
Despite the changing economics, shippers do not see any impact yet on small carriers exiting the market.
Expectations for rail pricing increases, however, remain strong. Shippers expect 2007 increases in rail rates to be 4% before fuel surcharges, up from 3.5% in Q4 2006.
The current scenario is causing a greater percentage of shippers which plan on moving freight from rail to truck, citing both cost and service issues. Interestingly, price has actually replaced service concerns as the number one reason for moving from rail to truck. "Shippers expect to move slightly more freight from rail to truck and less from truck to rail than we have seen in several years," the report says, noting this is counter to the overall, longer term trend of increased rail usage.
A small but growing level of shippers is beginning to divert some freight from unionized LTL carriers and UPS as we approach the end of the union contracts for both, which end March 31 and July 31, 2008, respectively, over worries about a potential strike and loss of capacity.
Shippers do not think "dimensional pricing" is cost neutral, despite claims by UPS and other parcel carriers. Respondents believe the new rating programs, which took effect in January, will actually increase parcel shipping costs by 1.5% based on cost per pound.
Rate expectations are also modest for ocean shipping, though up slightly from last year. On average, shippers expect ocean container increases of 1.2% in 2007, but that's up from an expected decrease in rates in Q4 2006. The report says it believes importers are staying very focused on keeping ocean container rate increases down in the face of rising rail costs for full international to domestic multi-modal moves. The implication is that shippers will have more luck negotiating on ocean container rates than with the rail carriers.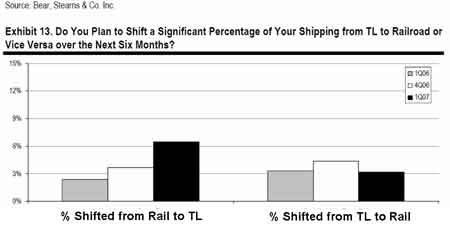 A Growing Number of Shippers Plan to Shift Freight from Rail
to Truck in the Short Term, though the Longer Term Trend is the Opposite
What is your reaction to the Bear Stearns Q1 shipper's report? Do you also see great overcapacity in the TL and LTL markets? How long do you expect that to last? Are changing dynamics causing you to think about moving from rail to truck? Let us know your thoughts at the Feedback button below.