I am back from a couple of extremely busy days at the ProMat 2015 show from MHI (the former Materials Handling Institute of America), a trade organization that represents hardware and software vendors originally associated with materials handling for logistics and manufacturing - but the organization is clearly now taking aim at the broader supply chain.
Joining me at the show at the giant McCormick Place south of downtown Chicago was our materials handling editor Cliff Holste and Jim Stephens from our Supply Chain Television Channel. Thousands of you have already watched our two summary videos from day 1 and day 2, which together feature footage of some 15 new and innovative solutions: You can find them here - they are very good. Day 1 Promat review, Day 2 review.
Gilmore Says:

If a company elects not to pursue automation of case or piece picking, it will simply not be because it won't work.

---

ProMat is held bi-annually in the odd numbered years, and now for quite some time always in Chicago. In even number years, MHI has since 2012 introduced a new MODEX show in Atlanta, smaller in scale at this point but with promise, replacing an older show that was held in Cleveland for many years.
Cliff and I, as just a matter of habit, tend to enter these kinds of shows by heading to the far right wall, traipsing up and down aisle after aisle from there working towards the center and then if we make it to the far left side. Despite two full days of hard work and few breaks, we only made it about two-thirds of the way through the mammoth show floor, so if there was something really noteworthy in that last one-third we missed it. In 2017, we'll simply have to stay for three days.
There were some 30,000 attendees over the four says of the show, roughly in line with 2013 and perhaps up a bit. Monday was a bit slow just because that's the way it works and due to snow in Chicago that caused some travel issues, but the floor was very crowded Tuesday and vendors seemed pleased. The show includes an educational track in rooms just off the show floor, but these are vendor-sponsored and in my experience vary substantially in quality. Attendees range from those truly interested in the topic to others looking to get off their feet for 45 minutes.
Exhibitors in total are all over the map, though most predominant are traditional material handling vendors providing systems in area such as conveyors, sorters, fork trucks, automated guided vehicles, etc. More recently, especially in 2015, vendors offering automated solutions for case and piece picking were also prominent (more on that in a second).
Supply chain software vendors are also out in force, with all the major and most of the minor Warehouse Management System providers present, plus a scattering of vendors in areas such as Transportation Management, slotting, Warehouse Control Systems, and more. Add into that a heathy representation of providers of wireless and Voice solutions.
Add in to all that a decent number of consultants, more vendors than you might think in categories such as fork truck battery charging systems, racking and storage systems, motors of all sorts and a lot more, including many sort of one of a kind vendors that often bring novel products to the show, and that's how you fill up a huge exhibit space in McCormick Place.
One final general point: While there were a lot of actual systems on display, the trend of substituting physical systems for videos and especially animations continues on, for better or worse.
Cliff and I struggled to identify any key themes at the show on the first day, but a couple of important ones started to emerge on day 2.
Here is the first: There is simply an arms race going on for automation of piece and case picking activities, as noted above, the latter of course driven by efulfillment mania. Most of the major materials handling vendors that in the past would likely have featured more traditional conveyor/sortation type solutions now emphasize these case/piece solutions, driven by robotics for case picking and robotics and so-called "goods to person" technology for piece picking.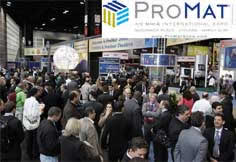 But that automation arms race has been going on for the past six years or so. Here is what is different: the technical limitations to fully automating cases or "eaches" picking is virtually gone. The on-going substantial improvements in the dexterity of the robots, the capabilities of the "tools" that are used to "grab" each case or item, and most importantly the great gains in the robotic control systems have solved nearly every operational problem.
Let me put it another way: if a company elects not to pursue automation of case or piece picking, it will be due to ROI issues, cultural fit with this level of automation, lack of sufficient volumes, or other such issues. It will simply not be because it won't work. That is a major change.
Case in point: a new robotic case picking/depalletizing system from Daifuku, on display at ProMat. The robot uses a 3D vision system to literally look at a pallet full of cartons and decide how to best grab cartons off it - at very rapid speeds. At the show, the Daifuku robot was easily grabbing cases tilted at various angles, for example, because it could see their orientation.
Generally, such case picking robots have needed to understand the pallet configuration to do such work. That means they were limited to full pallets of the same SKU. This technology, which I assume will be developed in some way by others, breaks through that limitation. And that opens up many new applications, most obviously depalletizing mixed-SKU pallets received from a vendor - for which the system has no knowledge of the build - say to place cartons on a conveyor for putaway.
But that's not all. This robot can be put on a mobile platform. That could allow it to go into a container or trailer and unload floor-loaded cartons. Or - get this - that mobile platform could move down an aisle of pallet flow rack and select cartons for an order. Talk about automated case picking.
This is not to overly focus on one solution, but to simply articulate not just where this is heading but where it is right now. The technology is getting amazing.
Along the same line, Dematic was back with its Rapid Pick solution, which uses "multi-shuttle" technology to quickly bring pick totes to operators at a work station, from which items are then selected for placement into cartons for customer orders.
This year, we saw Rapid Pick XT, which instead of a person at the work station uses a high speed robot that selects the products from the totes, again using vision technology, at a rate of some 750-1200 per hour. It's still in the concept phase - but was working just fine at ProMat. More on all this soon.
Before I am out of space, another interesting theme is the still small but growing number of automation vendors that want to own it all - automation, automation control/WCS and WMS - with the promise of "one throat to choke," perhaps improved equipment utilization, and in some cases throughput guarantees.
Will this model really gain traction? It would have a big impact on the industry as a whole, notably WMS vendors, and the general vendor selection process.
Notably down this year in terms of themes: RFID (very hard to find), hydrogen fuel cell fork trucks, and marketing around sustainability, all much reduced versus recent years.
While I have a few sentences left, systems integrator Fortna was interestingly spending 2 or 3 days painting a "3D warehouse" that looked - from the right angle - as if it were descending down from the show floor. It was pretty cool - here's our Holste riding down a spiral conveyor.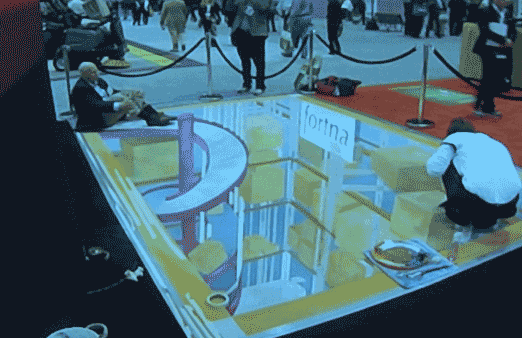 I'll be back next week with summaries of the many other new solutions we really liked - from drone yard management to an innovative use of static electricity. That's right, static electricity.

Any reaction to our ProMat 2015 review? Were you there? What did we miss? Let us know your thoughts at the Feedback button or section below.