As some of you hopefully remember, this past September marked the 10-year anniversary of SCDigest, and we since then provided a couple of small things to recognize 10 years of what I feel confident saying has been an industry success.

As we slow down just a bit here for the Thanksgiving week ahead in the US, I thought I would write what I hope you will find an entertaining column on what I consider the 10 biggest changes in supply chain management over the past decade.

What's interesting is that as I reflected on what ares are most different in supply chain today than they were in 2003 or 2004, every area but one (RFID's collapse) naturally enough occurred gradually over time, which makes it hard to really perceive that the change is happening. Yet like interest compounding to produce a much larger total in the end, you find that over time the small levels of annual progress build to produce dramatic change over a period of years.

There is also a large personal risk for supply chain executives for not getting this complex equation right: keep costs world-class low, while you are eliminating any chance for a dynamic supply chain disruption.

---

So, in mostly random order, here is my list of the biggest changes in supply chain over the past 10 years, starting with some technology issues but moving on from there:

Technology Vendor Consolidation: Stated bluntly, the supply chain technology landscape has been altered substantially over the past decade due to mergers and acquisitions. On the ERP side, in 2003 JDEdwards and PeopleSoft were still independent companies. So to were Retek (retail software) and G-Log (TMS) and Demanta (demand planning). All the above were acquired by Oracle in the mid-2000s.

Supply chain software icons Manugistics and i2 were still independent companies, as was RedPrairie (which itself made a series of acquisitions in the middle of the decade). Now all are part of JDA Software. In wireless devices for logistics and manufacturing, consolidation has left the US market basically with just two providers, Motorola Solutions and Honeywell.

There are certainly still smaller vendors out there in most areas, and Cloud-based solutions may start to deliver a new set of choices for the market, but at the large and mid-sized vendor level the number of available solutions has shrunk dramatically over 10 years. Of course, there has been quite a bit of consolidation in most regular business sectors as well over that time.

Dramatically Improved Software Quality: Ten years ago, most supply chain software was subject to at least occasional major problems with software quality - "bugs" - which sometimes had major ramifications. Often, this was a result of substantial customizations required to meet functional needs that went awry, as was the case in 2001 when Nike blamed a new i2 deployment for massive inventory problems and a blown financial quarter. As an industry analsyst in 2002, I counseled a pretty large company that just couldn't get JDEdwards to work. It wanted to know if it could get its money back.

Today, the code is simply much better. Functional advances and a better recognition of the risks have dramatically reduced the levels of customizations. Cloud-based solutions generally eschew the idea of customizations altogether. Software will never be perfect, but in 10 years the kind of major software quality issues commonly seen back then are almost unheard of today. Problems that arise are now usually from configuration issues, not bugs. That is an important change, and greatly reduces risk. I can't overstate how much this has changed in 10 years.

RFID's Supply Chain Collapse: Staying on a technology theme on last time, 2003 and 2004 clearly represented the apex of RFID hope for the supply chain. Walmart's mandate was announced, the EPCglobal organization was formed, consumer goods companies like Procter & Gamble and Kimberly-Clark were spending big dollars on research, RFID testing labs were sprouting like weeds, etc.

Walmart's program frankly was wobbling shortly after the launch, but was reeling by 2007 or so, and was basically dead by 2009. What a dramatic change from the vision that was driving much of supply chain thinking in the first few years. Other retail RFID high-flyers such as the UK's Tesco and Germany's Metro Stores similarly retrenched. This all simply altered in a dramatic way the trajectory of where we thought supply chain was going.

RFID has received a bit of new life with the slow progress in item-level tracking of soft goods (e.g., Macy's), and as this (gradually) evolves, I believe it will eventually lead back to case-level tagging, just as the UPC code on items in a sense eventually led to UCC-128 serialized bar codes on cartons. And in the end, RFID is just generally better and someday will win out when there is a tag cost breakthrough. But the energy behind RFID in the distribution center or for widespread supply chain visibility is just a fraction of what it was 10 years ago. Quite a story, actually.

Searching for Growth in Emerging Markets: China entered the World Trade Organization in 2001. Offshoring to low cost countries in the apparel and high tech sectors, among others, was already well underway in the 1990s. China may have exploded as a force at a bit higher level than many expected in 2003, but in general I don't think there has been that dramatic a change on the supply side.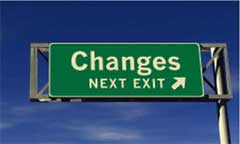 What has changed significantly is the focus on emerging markets as the only real source for strong growth on the demand side. The Great Recession, slow recovery in the US, and the subsequent extended contraction in many parts of Europe ever since have caused multi-national corporations to desperately search for growth in developing markets. That simply wasn't really the thinking in 2003.

This change of course has many supplier chain ramifications. How does product get into a given country, and how does it move within its borders? How do products need to be redesigned to meet the functional, price point and other requirements of the developing country customer (factors which of course vary between regions/countries)?

I've twice seen Walmart's Gary Maxwell give excellent presentations on the company's strategy to really tailor its supply chain to the needs and cost realities of each market it enters , versus the "best in class" approach Maxwell sees some have taken across the globe. German industrial giant Siemans has been one of the leaders in designing products specifically for emerging market realities. Procter & Gamble sells laundry detergent by the cup full in parts of India.

But it's far from just large companies hoping for growth in emerging markets. All of which provides lots of opportunity for supply chain managers and global 3PLs.

Risk Management Moves Way Up the Supply Chain Priority List: There was an emerging sense that supply chain risk management needed a lot more attention than it was receiving in 2003, but the difference between then and now is simply staggering.

Obviously, the rise of global sourcing is largely behind that, as well as research and case studies in the 2000s showing the impact on stock price, market share, and/or brand reputation from supply chain disruptions.

In more recent years, a series of major natural disasters such as the Japan earthquake and tsunami that put a wallop on Toyota and much of the rest of the auto industry, the flooding in Thailand that put a similar hurt on the high tech sector, the Icelandic volcano that impacted hundreds or thousands of companies, etc.. , showed many companies they had major supply chain risks about which they were almost totally unaware and unprepared.

Add to that the now powerful recognition that there is also a large personal risk for supply chain executives for not getting this complex equation right: keep costs world-class low, while you are eliminating any chance for a dynamic supply chain disruption. Good luck with that, but that is precisely the lot of many chief supply chain officers today. That simply wasn't true in 2003-04. Hugely different scenario today.

So as usual I am out of room. The next five most important supply chain changes over the past 10 years is coming in two weeks, following our newsletter vacation we will take next week for Thanksgiving (one of just four such SCDigest newsletter holidays each year).
The other five mega-changes we'll cover then are: the rise of green supply chain practice (obvious but true), omni-channel and the Amazon factor; focus on supply chain finance; supply chain now in the boardroom; and the tremendous advanced in distribution center automation.

Any thoughts on the largest supply chain trends of the past decade? We still haven't written part 2 - any suggestions? Let us know your thoughts at the Feedback section below.