"Where profit-sharing is based on profitability or cost measures - or, managing one's portion of the existing piece of the pie - Vested Outsourcing focuses on value creation, making the pie bigger so all parties can enjoy a bigger share," Vitasek says.
Changing Paradigms
Vitasek says that developing a Vested Outsourcing approach generally requires a change in paradigms, especially for the shipper. For example, many companies are leery of long-term contracts with outsourcers. They may also not like to think of outsourcers making high profit margins – even if that comes as a result of saving the shippers even more. They may be uncomfortable with allowing outsourcers fairly free rein to come up with ideas to meet supply chain goals.
But those paradigms need to be dispelled, Vitasek says.
Toyota, a company well known for the quality of the relationships with its logistics service providers, has been following a different path for years. It often asks its LSPs to come up with cost savings ideas that may hurt the 3PL's top and even bottom-line numbers in the short term, but it generally gets high levels of participation in such initiatives, in part because the LSPs know they are in it for the long term and not likely to be thrown out in the next round of contract negotiations. Helping Toyota improve its competitive position is ultimately good for those LSPs too.
"Toyota is a great example of the "What's in it for we" approach," Vitasek says. "The LSPs know they are in it for the long haul, and that's why you see the innovation. With a longer term vested relationship, suppliers want to innovate on your behalf."
Vitasek says Vested Outsourcing relationships are probably not for all outsource relationships. She says it is probably best suited for more complex situations, and are perfect when you want to mature beyond a preferred supplier relationship – but don't want to jump into a strategic alliance. (See graphic below).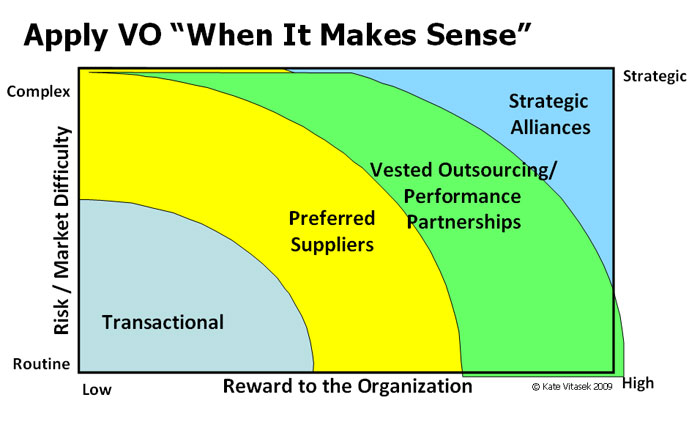 In fact, Vitasek says the best scenario for Vested Outsourcing is when the supply chain scenario is complex and the company does not have a lot of internal expertise.
Will Vested Outsourcing catch on? It seems likely most companies will find the approach appealing for some outsource relationships, but whether they can make the leap to change the way they do business is the real question.
Any reaction to the basic concept of Vested Outsourcing? What do you see as the root causes of poor outsourcing relationships? Can we – and should we – really get there? Let us know your thoughts at the Feedback button below.
SCDigest is Twittering!
Follow us now at https://twitter.com/scdigest