Some observers believe Obama will generally support free trade, but with conditions regarding labor and environmental protections in US trading partners. But in practice, that approach could lead to import restrictions.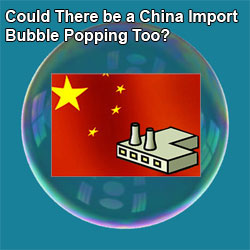 In a February 2008 speech at the General Motors plant in Wisconsin, Obama said he "will not sign another trade agreement unless it has protections for our environment and protections for American workers." What that statement really means is not clear, however.
As a senator in 2007, Obama wrote to Treasury Secretary Hank Paulson that "At least partially as a result of the Administration's failure to address Chinese currency manipulation, the U.S. imported more than $232 billion in goods from China than we sold to it last year," referring to the charges by many that China was intentionally under valuing its currency to keep its export machine stoked by reducing purchase costs to importers in the West.
Chinese government statistics show that 67,000 factories of various sizes were shuttered in China in the first half of the year. By year's end, more than 100,000 plants will be shuttered, experts predict.

As more factories in China shut down, stories of bosses simply running away have become familiar, exacerbating the damage of the Chinese manufacturing decline.
The LA Times recently reported at least six major bankruptcies, including Jianglong, the country's largest textile dying company; Feiyue Group, China's biggest sewing machine maker; and Zhejiang Yixin Pharmaceutical Co., among the largest manufacturers in that industry.
What this means is that even when economic growth picks up, China will have lost a tremendous amount of capacity to produce to potential demand.
The LA Times says the descent of textile dyer Jianglong was astounding. The owner simply closed up shop one day, burning financial books, selling some assets, and disappearing.
Overnight, Jianglong 's four factories, a campus the size of 31 football fields, 4,000 workers were done – along, the owner hoped, with its $200+ million in debt.
Add to all that rising Chinese labor costs, and China's export economy may face some incredibly strong headwinds. While the current comparative slow down may dampen wage growth from previous years, in Eastern China they have in many cases already risen to levels that change previous sourcing economics.
Do you see the level of Chinese imports being reduced even more than just the level expected from the current slow down? Why or why not? Is China losing production capacity that will be tough to replace, or can it easily ramp back up when needed? Do you expect protectionist moves to dampen imports? Let us know your thoughts at the Feedback button below.