In 2007, the bill won support in the US House, but failed in the Senate over a Republican filibuster. Even if passed, it would have been vetoed by President Bush.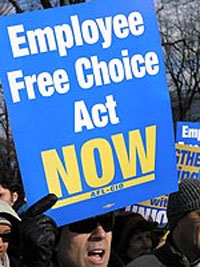 But with some chance for Democrats to achieve the 60 Senate seats needed to overcome a filibuster, and an even better chance of capturing the White House, there is a real chance the bill could become law in 2009.
Barak Obama was a co-sponsor of the bill, and said, "We will pass the Employee Free Choice Act. It's not a matter of if, it's a matter of when. We may have to wait for the next president to sign it, but we will get this thing done."
Supporters, of course, argue that amid globalization of the supply chain and rampant offshoring, the balance of power has shifted to business, and left labor with a weak hand. The number of manufacturing jobs in the US continues to decline, as a result both of offshoring and/or automation, depending on who is doing the analysis. Giving unions more power by increasing dramatically the number of companies that are unionized will redress this imbalance and let workers grab a higher share of corporate profits, according to supporters.
Critics, on the other hand, say the result will be an economy that comes to look much more like that of France or Germany – characterized by slow growth, high unemployment and general stagnation.
"It's time to stand up and fight. America's competitiveness, jobs and right to a secret ballot are at stake," Marcus says. "CEOs, employees who want to keep their jobs in America -- and those retirees like me who would not be where we are today but for our system of free enterprise -- must stop this anti-democratic legislation."
Do you think the impact of the Free Choice Act will be as dramatic as Marcus predicts? Or, is there more of a balance needed between labor and business? Do most companies understand the impact this law could have on their operations? Let us know your thoughts at the Feedback button below.