Ohio Provides Interesting Test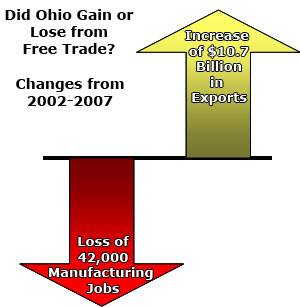 Ohio has emerged in recent elections as a key swing state, and illustrates the complexity of the free trade issue, which will likely be a key theme there this year.
Ohio lost about 42,000 manufacturing jobs between 2002-2007 due to trade policies, as measured by the number of workers eligible for the Trade Adjustment Assistance program, fourth highest in the nation.
However, it lost 105,000 manufacturing jobs in total during the period, meaning the majority of the losses were due to automation, higher productivity, or general business changes.
On the other hand, Ohio is strongly benefiting from export growth. It is the only state that has seen export volumes grow every year since 1998, and Ohio export trade has grown by $10.7 billion since 2002. The National Association of Manufacturers estimates there are 317,500 jobs tied to exports, including 174,300 manufacturing jobs.
Many of these could be at risk if changes to US trade policies trigger reciprocal trade wars.
"A number of companies said they lost jobs because of trade, when in fact it was bad management," the Dayton Daily News quotes Cleveland State University professor Ned Hill as saying. "It isn't China's fault GM, Ford and Chrysler couldn't design a car people wanted to buy."
Then again, a number of auto parts manufacturers have shifted production overseas, regardless of the ups and downs of Detroit automakers. Bo Andersson, Supply Chain VP at GM, has said, "The automobile market in the United States is great – as long as you don't manufacture in the US."
While that statement was before the recent auto sales slump, especially for gas guzzling SUVs and trucks, nonetheless it shows the cost allure of going offshore.
Either way, it is important for US companies to monitor potential changes in trade policies, and how those might impact current or future decisions about where to invest or source products.
"I expect a lot of companies to sit a bit tight right now, waiting to see how things shake out," said SCDigest editor Dan Gilmore. "You'd hate to make a decision today that would look much different in 2009 under a different set of trade policies."
Do you expect significant trade policy changes in the event of an Obama victory? Regardless, what are smart strategies now to ensure a company can best maneuver regardless of which way trade policies go? Let us know your thoughts at the Feedback button below.