Assertion: DHL customers will not be able to track shipments handled by the USPS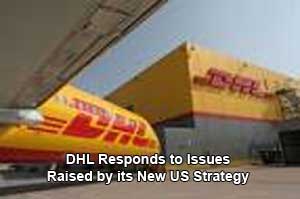 DHL Response: DHL will offer track and trace capabilities for shipments handled by the USPS. Customers will continue to call DHL Customer Service or visit the DHL website to track shipments with their DHL airway bill number. USPS shipment delivery confirmation data will be uploaded into DHL's tracking system.
Assertion: DHL has revealed few details about its agreement with UPS, including station closures and ZIP Codes handed off to the USPS.
DHL Response: We are finalizing our plans and still in the early stages of our working relationship with UPS. This will not be an overnight action. We will be working methodically to ensure these changes do not interrupt ongoing operations.
DHL's Sales personnel have been making personal calls to their customers since the announcement to advise them of the impending changes.
DHL will continue to deliver to 100% of the ZIP Codes that we deliver to today. The USPS will provide final mile delivery to sparsely populated areas of the country (these shipments represent only about 2.4% of total current volume.)
Customers can view revised transit times online on the DHL website at www.dhl-usa.com or obtain information by calling DHL Customer Service at 1-800-CALL DHL.
Assertion: DHL could co-mingle freight with UPS within containers. In this scenario, DHL will have to wait at the destination until all the UPS shipments are sorted before it can receive its parcels to take over to its local terminal.
DHL Response: It is too early in the process to discuss specific operational procedures, but we are certainly planning for and expect a smooth transition to a new airlift provider.
We can say with certainty, however, that our plan would involve the use of UPS airlift from airport to airport, using containers dedicated to DHL shipments.
We will be working methodically to make these changes in a way that will not interrupt ongoing operations.
Assertion: The removal of dedicated "red dog" flights will no longer enable DHL to provide customized services for many large shippers.
DHL Response: While we have just begun to discuss the operational specifics with UPS, we will continue to be a flexible, responsive organization and will continue to invest in the areas that enable us to provide even higher levels of service with a customer-focused orientation.
Assertion: With the UPS aviation arrangement, DHL will disrupt the supply chains of companies that have co-located at the end of the DHL runway in Wilmington, Ohio.
DHL Response: We are still in the very early changes of working with UPS on a contract, but we are fully committed to working closely with customers and addressing their needs.
Although it's too early to communicate our specific operations plans, some options for co-location customers in Ohio could include feeder flights or line-haul truck transportation from Wilmington to the UPS hub in Louisville.
Assertion: It remains something of a mystery why DHL would make the announcements, especially regarding the UPS piece, before a final deal with its competitor had been finalized
DHL Response: It would not have been possible to implement the transition to UPS for airlift without first announcing our intentions. The UPS aviation proposal is just one part of our comprehensive network plan to restructure operations to reduce costs for the US Express business, while maintaining a competitive choice for US and global customers. DHL is moving forward with several parts of the plan that are unrelated to using UPS as a new airlift provider, including our partnership with the USPS for final mile ground delivery service to remote, sparsely-populated areas of the country.
Mintz also says DHL customers have largely been supportive of the changes. He cited, for example, a note from a transportation manager at retailer Lord & Taylor as saying, "What's good for DHL is good for L&T. DHL needed to do something quick, and we were all anticipating it. We are in and along for the ride."
What's your reaction to DHL's response to the issues raised about its US operational plans? Should customers be concerned? What will be the impact on the overall parcel market? Let us know your thoughts at the Feedback button below.