From Top Down to Bottom Up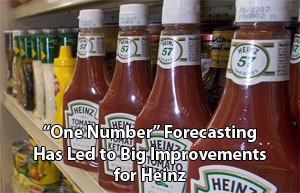 Perhaps the key process change in the Heinz journey was the switch to a "bottom up" forecasting approach. Previously, the forecasts started with a top down approach based on brand targets. It also relied heavily on static allocation of forecast volumes within business segments. Item level forecasting was "something of an afterthought." For example, in the pasta sauce category, the critical SKU level forecasts were divided among different flavors based on historical percentages – which overlooked multiple factors and different growth trajectories among the different SKUs.
Park says Heinz made two critical changes:
Forecasting consumption first, then shipments; and,
Forecasting at more granular level, so that each SKU was handled properly for growth, promotions, etc.
Heinz also began to do a better job of forecasting by channel. This was critical because some channels, such as warehouse clubs, were growing faster than traditional channels, and had opportunities for additional growth.
In the end, Heinz wound up with a brand-channel-fiscal month/quarter/year rolling forecast, providing significant insight to marketing, sales, finance and the supply chain.
The single forecast put the entire company on the same page. Planning and budgeting became more efficient and less contentious, as the same "volume call" drove every department's own plans. When spending increased or decreased (for example, in the promotions area), "appropriate volume was either added or subtracted from the forecast." When large customer events were added or moved, volume was correspondingly shifted.
The effort also had big supply chain benefits. Planners and managers were able to see potential supply issues or volume spikes much earlier, and work with vendors proactively to resolve them.
Accuracy Takes Center Stage
An important change came when Heinz's CEO stated that forecast accuracy was now of paramount importance. In the past, "under promising and over delivering" was often considered a commendable approach.
This type of CEO endorsement often also makes it clear that "hiding" bad news is not acceptable.
The one number change is not without challenges, of course. It puts a lot of pressure on the demand planning function to acquire and process data from many sources, and to hold the whole process together for the entire company. Forecasts are, as always, subject to error, and often major, long-term strategic decisions and investments are made on those forecast numbers. Ironically, demand planners have to sometimes really struggle to meet the needs of the supply and demand sides of the house – issues never really created in a world of multiple forecasts.
Still, Park notes, "One-Number forecasting has to be a principle that we want to live by."
Has your company gone through a similar process to get to a One Number Forecast? What were your challenges and solutions? If you aren't there yet, what are the obstacles? Let us know your thoughts at the Feedback button below.