Our own sense is that these total market numbers are high, but that the 15% annual growth over the next few years in core RFID tags and hardware is quite likely. Interest and adoption in RFID-based systems for asset tracking, work-in-process, access and other systems seems to be gaining strong critical mass, and RFID can solve many problems in these areas. Who knows, sometime in the next 5 years, RFID may even take hold in the consumer goods to retail supply chain.
Systems Integrators Cautiously Optimistic on RFID Prospects: On a similar note, the RFID researchers at investment company RW Baird & Co. recently conducted a survey of 92 auto ID-related systems VARs/ systems integrators. Roughly 33% of these resellers say RFID is becoming either "somewhat important" or "important" to their business. The inference is that this number is larger than would have been the case say two years ago.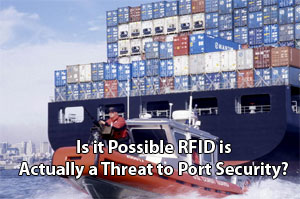 Still, the report notes that "Our conversations with resellers suggest that RFID opportunities come along only sparingly at this point, but the closed-loop versions offer strong profitability."
Professor and former FBI agent says RFID is actually a threat at ports, not a security enhancer – but view has a purpose: Most of us think of RFID as a new technology tool to enhance global logistics and port security – but one academic has a different view.
Jim Giermanski is a professor at Belmont Abbey College in North Carolina and former FBI agent on top of that. "I think it's clear, eventually we are going to lose a few ports. We are going to either have a container coming in here that has nothing in it but explosives and it will be from a shipper," he said last week.
He believes RFID could actually be used to trigger a terrorist attack at a major port.
Here's how:
An RFID tag is attached to a container. When it reaches a port, the RFID tag digitally 'talks' to a port receiver through radio frequency to let a computer know the container safely reached its destination. Giermanski says terrorists can use the same technology to trigger a bomb.
And he says he proved it last November. With the help of a college undergraduate, $20 dollars worth of equipment purchased at Radio Shack, he simulated the same radio frequency used at many ports and turned an RFID into a trigger that could be used to detonate a weapon.
Is this possible? Giermanski's scenario is certainly similar in a sense to the way Iraqi insurgents use basic wireless technology to trigger road side explosives.
It's worth noting though that Giermanski owns a patent that could replace RFID technology at ports. However, the fact that he may have a financial motive does not necessarily mean his thesis has any less value.
Virtual Walls from GE: We liked the announcement from GE Healthcare and partner CenTrak, Inc., of a new solution that creates "virtual walls" for pinpointing the location of equipment in health care environments.
The reader network creates subdivisions within rooms as small as six feet by eight feet, the typical size of small patient bays, often curtained off for privacy, used in large hospital wards. This creates the ability to more accurately locate equipment of other assets versus existing approaches, the companies say, or else be able to do so at lower system costs.
It's not clear, but we assume the reader network can be flexibly configured to define these "rooms."
See comment about other businesses building or buying RFID capabilities to add value to their products or services.
Any comments on any of the stories in our RFID news round up for the week? Let us know your thoughts at the Feedback button below.