(Global Supply Chain and Logistics Article - Continued)
Surprise for Disney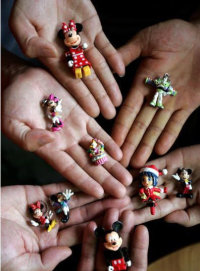 The Los Angeles Times this week reported that an unusual legal action of factory labor practices in China led to the discovery that a factory Disney had stopped doing business with for some violations of its supplier code was still making Disney-related products for a Japanese licensee.
Disney had revoked Hao Wei Metal Plastic Manufactory's authorization to make licensed products in 2001 after a history of compliance problems. But in a very unusual legal action for China, several workers at the Hao Wei plant sued the labor bureau in Shenzhen, alleging its employer regularly made the workers pull 15-hour shifts and kept hazardous, dust-filled working conditions. Workers would sometimes toil for a month or more without a day off, and were not paid for overtime.
One of the plaintiffs says that when he demanded back pay, the factory owner threatened to have him beaten up. To the surprise of many, the workers won the first stage of the suit, with a court ruling that the bureau hadn't properly considered their demand for more than $90,000 in unpaid wages. However, that ruling is on appeal, and the workers to date have lost their jobs and not received any payments.
Nevertheless, during the course of these proceedings, which made for big news in China, it was discovered that the factory Disney had banned in 2001 for doing direct business with the company was, in fact, still making Disney-based figurines and other toys for Disney's Japanese licensee, Run'a.
The issue is complex. Some US companies, such as The Gap and Nike, in general deal with offshore suppliers directly, and try to maintain long-term relationships with those suppliers in part to gain more control and visibility into business and environmental practices.
But Disney now produces very little directly. Rather, it uses as many as 6000 licensees who strike deals with Disney to make and distribute Disney-themed goods. Those licensees, in turn, may outsource the work to other factories to produce the products. While the LA Times says Disney maintains a database of about 40,000 factories around the globe, "Disney must rely on its licensees to follow the rules -- and to tell the truth about which plants have been hired to make Disney goods."
"The brands, up until recently, have been able to say, 'This is not our problem. We were lied to. We were deceived,' " the Times's story quotes Mary Gallagher, an associate political science professor at the University of Michigan and an associate at its Center for Chinese Studies, as saying. "That's getting less convincing over time. More and more activists are saying, 'You're responsible.'"
As evidence of that growing pressure, consider this recent comment from Conrad MacKerron, director of corporate social responsibility for the As You Sow Foundation, a shareholder advocacy group in San Francisco: "We are dismayed that Disney has not issued a public report . . . grading the performance of their supply chain and providing summaries of major violations found in the factories and what they are doing to improve compliance," MacKerron said.
Building and maintaining huge databases such as Disney is doing, and monitoring direct offshore suppliers and the more challenging task of doing the same for second and third tier suppliers or those of channel partners such as Disney's licensees, will be both a daunting effort and expensive.
SCDigest believes these on-going costs need to be more directly considered when making offshoring manufacturing decisions, which companies relatively new to the process rarely do.
How far back into complex supply chains do companies need to go to enforce their compliance and ethics requirements. Should that also apply to the suppliers or even the supplier's supplier of licensees such as Disney has? What are the real costs of such an effort, and are they well considered in sourcing decisions? Let us know your thoughts at the Feedback button below.