RFID and Automatic Identification Article - Continued
Quick Bar Code Review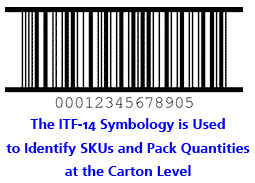 The ITF-14 bar code is like a Universal Product Code (UPC) but at a carton level instead of the individual item level. In other words, it identifies a SKU and carton pack level, but the same ITF-14 symbol (which utilizes the "Interleave 2 of 5" bar code symbology) is the same on each carton with the same SKU and pack count. In the past, the ITF1-4 was called the UCC-14, and is commonly used in the consumer packaged goods and food/beverage industries, as well as some other consumer goods segments.
The GS1-128 (formerly called the UCC-128 or Serialized Shipping Contain Code (SSCC) 128), on the other hand, uniquely identifies a specific carton. Today's Electronic Product Code (EPC) RFID tags can in many ways be viewed as a new form of electronic GS1-128, albeit with additional potential capabilities.
Sometimes, the ITF-14 code is used as an integral component in the manufacturer's own downstream distribution scanning processes. An example might be inbound receiving scanning, or scanning on a conveyor system after picking to trigger print and apply of a GS1-128 serialized shipping label.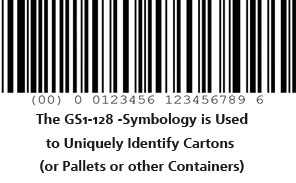 Wal-Mart and some other retailers, especially in the grocery industry, require an ITF-14 on each case. The ITF-14 is the code Wal-Mart uses to drive its conveying operations for the vast majority of its vendor shipments that are not yet using RFID tags.
"Wal-Mart DC's still use the ITF-14 bar codes in their receiving process," said Jon Verb of Bar Code Graphics, Inc., a GS1 Certified Solution Provider for a variety of bar code and compliance related products and services.
So how can one set of retailers levy onerous fines for a supplier that is using a retail-industry standard bar code required by other customers and the vendor's own distribution processes? That's a hard one to answer.
"This is incredible, really," said SCDigest editor Dan Gilmore. "What's mystifying is that it is very easy for a retailer to configure its scanners to not read the ITF-14 bar codes. There is something I am just not getting here. It's like Chargebacks Gone Mad."
SCDigest has asked the GS1 organization (formerly the Uniform Code Council) for comment on this topic, but at press time we have not received a response, though a spokesperson said they are looking into the question.
Another large food manufacturer, which also asked to remain anonymous, told SCDigest that not long ago they had a similar problem with the Costco chain, but were eventually able to resolve the issue and maintain use of the case bar codes on their products.
Are you having a similar experience with conflicting bar code requirements? We would love to hear from you. What is your general take on this situation? Is it Chargeback Gone Mad? Let us know your thoughts at the Feedback button below.