---
(Supply Chain Trends and Issues Article - Continued)
However, they note that "Executives who have amassed the experience and skill sets that match this new profile are in short supply. Consequently, hiring teams face an array of questions and tradeoffs in their efforts to ensure that their search for a supply chain leader aligns with their organization's current and future needs."
In some cases, companies can try to attract even more qualified candidates by raising compensation packages to recruit more ideally suited executives. But that isn't always a possible or desirable option. Companies must therefore think through the range of a potential candidate's attributes and weigh the trade-offs around which experiences and skill sets are most important for a specific supply chain role.
The chart below, taken from the Korn/Ferry white paper, is interesting not only in providing a framework of attributes companies can consider using to evaluate supply chain executive candidates, but also for aspiring executives in terms of working to round out their skills and experiences in a way that will ultimately make them attractive to companies and executive recruiters.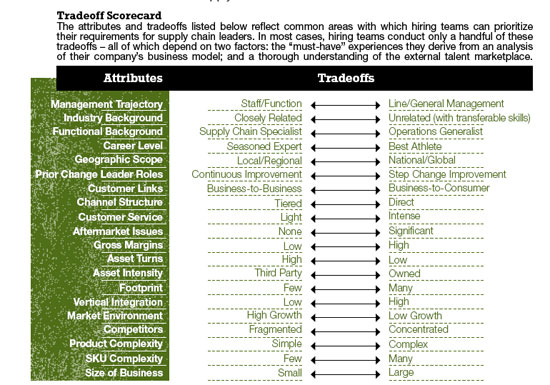 Source: Korn Ferry Institute, "A New Acid Test
for Supply Chain Talent Management"
"By applying that rigor to the recruitment strategy, hiring teams can more effectively contend with the difficulties posed by the evolving supply chain and, ultimately, locate and attract the best available supply chain leaders," Garcia and Fello conclude.
Are you having trouble recruiting supply chain and logistics talent? Are the skills sets sought today more demanding than the recent past? How do you balance trade-offs in experience and skills? Let us know your thoughts at the Feedback button below.