---
Conflict of Interest: A full 60% of respondents said that in developing a final forecast, there was some bias on the part of managers providing input from various other functions (sales, marketing, production, etc.), with the strongest response in this direction from the consumer package goods industry. To SCDigest, this shows that there is still a long way to go in developing quality Sales and Operations Planning (S&OP) processes within companies, which should serve to reduce forecasts bias that benefits individual functional needs.
Consensus Forecasts: The opportunity for improved S&OP was further highlighted by the survey finding that just 49% of companies use a single consensus forecast. The rest still operate with multiple internal forecasts.
Forecast Horizon: 36% of respondents forecast one year out, versus 34% who forecast over a horizon longer than one year. 16% have only a quarterly horizon, and 13% forecast for only the following month.
Forecast Buckets: Not surprisingly, a plurality of 38% forecast in monthly time buckets, versus 17% that use weekly forecasts, 14% that do quarterly forecasts, and a surprising 22% that just use annual forecasts.
Production Lock-Down: 45% of the companies in the survey (all industries combined) lock their production schedule one month out, versus 20% at three months and 16% at two months. 9% claimed to lock product schedules more than 6 months out.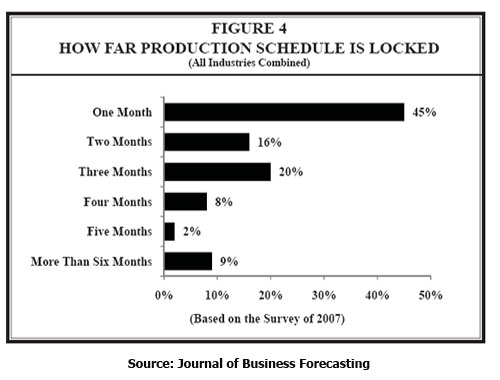 Forecast Monitoring: 72% of companies consistently monitor, and 67% of them revised forecasts on a monthly basis.
Consensus Meeting: According to the survey, 76% of companies have some form of consensus forecast meeting. It's unclear, but we assume this means everything from full blown S&OP to much "lighter' versions of agreeing to a forecast. We will note this result seems somewhat contradictory to the 49% who said they developed a consensus forecast. Either the data is not right, or 27% of companies that have a consensus meeting nonetheless revert back to use of multiple internal forecasts (which just may be true).
Sales and Operations Planning: Consistent with the above result, 70% of companies say they use an S&OP process in their companies. This says nearly all of the 76% of companies that have a consensus meeting do so in the context of S&OP.
Collaborative Planning, Forecasting, and Replenishment (CPFR): 43% of companies (all industries combined) have taken such an initiative, and is growing. 38% said they used CPFR in 2006 and just 26% in 2005. Note, however, this doesn't indicate the extent of CPFR usage, just that a company is using it somewhere.
It's hard to say, but we suspect the IBF conferences have a reasonable mix of companies highly experienced/mature in the forecasting process, some in the middle, and some much newer to forecasting. As such, the survey results are likely to be reasonably representative of companies overall.
What's your reaction to this benchmark data? Anything not ring true? Anything surprise you? Let us know your thoughts at the Feedback button below.