Not surprisingly, the Association's research found that "wood pallets offer a considerably more positive image as concerns environmental aspects than the synthetic pallet."
Peter Hamner and Marshall White of the Center for Unit Loan Design at Virginia Tech summarized this research in the latest issue of the Material Handling Industry Association's eMove newsletter. The table below they provided shows a summary of the study's LCA comparison between wood and synthetic pallets, as well as between single-use and multi-use wood pallets: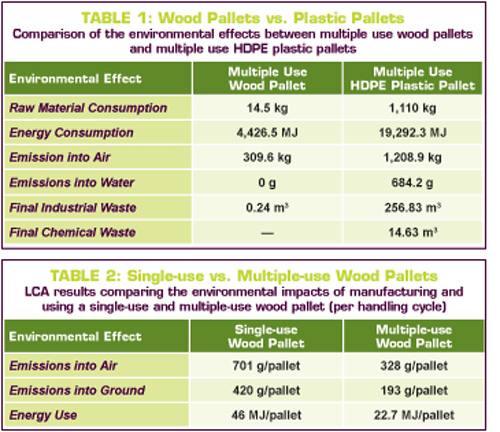 Source: Peter Hamner and Marshall White, Virginia Tech
Another recent report from a French government ministry came to a similar conclusion, stating the "Wood pallets demonstrate clear [environmental] advantages over synthetic pallets despite their weight and shorter life."
Synthetic pallet producers will likely disagree, however. While it is very hard to get accurate industry statistics, there seems no dispute that synthetic pallets are gaining market share, by some estimates at a rate of more than 3% per year. Synthetic pallets can offer advantages in terms of flexibility, quality, use with automation systems, total lifecycle costs, and other benefits.
The synthetic pallet industry argues that some environmental Lifecycle Analysis may not go far enough in terms of truly measuring the total impact of emissions and total energy consumption.
For example, Candice L. Herndon, U.S. Manager, Environmental Sustainability at CHEP, a provider of pallet pooling services using synthetic pallets, recently noted in Industry Week magazine that "Shipping platforms can be designed to improve trailer cube utilization and unit load configuration which translates to a reduction in transportation miles. Advanced designs can also create energy savings from warehousing efficiencies and reduce platform-related product damage which translates to a reduction in solid waste burdens, unnecessary reverse logistics and re-manufacturing inputs."
Are these types of factors fully included in the Lifecyle Analysis reports from the European groups? It's not clear.
What's a Logistics Manager to Do?
Logistics and procurement managers can expect to be bombarded with environmental data from the sales associates of wood and synthetic pallet providers. Will they have to wade through data such as that provided in the chart above, determining the relative accuracy and merits of the amount of kilograms of various emissions and energy usage created by different pallet options?
The real question will be how to balance what a company feels is the best option for its supply chain and/or the lowest cost product versus an alternative that is perceived as more environmentally friendly. Will companies choose "green" over the bottom line? That will be the real acid test.
Do you expect the lowly pallet will be among the Green Supply Chain battle grounds? How is a logistics manager really supposed to sort all this out? Will Green ever trump the bottom line? Let us know your thoughts at the Feedback button below.