"In some of our international operations, there literally isn't room for one of these machines," an air cargo executive for a major US airline, who asked to remain anonymous, recently told SCDigest at an industry conference.
The fear, or course, is that the new process itself and potential technology glitches will cause seriously delays in moving cargo through foreign ports.
For example, under the planned system, huge X-ray devices would scan every one of the containers for suspicious shapes at a rate that is expected to be about three containers per minute. However, it currently takes several minutes to scan a container, and the results are far from perfect.
"Imagine your worst line to get through security at an airport," said SCDigest editor Dan Gilmore. "Now imagine the luggage scanners aren't working quite right, and they have to keep running bags through repeated times. Can you imagine the delays? That's a real possibility for cargo with the law and the current technology for this as it stands."
Will Changes force Current World Ports and Sourcing Locations out of the Network?
Less noticed in the concern about delays in freight movement is the fact that the law may also have a significant impact on which ports U.S. importers can use – and change sourcing patterns and logistics requirements as a result.
For instance, there will be huge expense in acquiring and running the scanning machines, which are expected to cost about $5 million each. There are currently about 700 ports that ship product to U.S. destinations – and not all of those will decide to make the investment, or to have the equipment and processes in place by 2012, especially if there are questions about wheth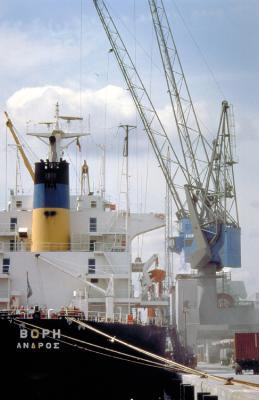 er the law will be changed or the deadline extended.
It's not just the smaller ports that may have trouble complying. The Wall Street Journal notes that even major but older ports like the huge complex in Antwerp, Belgium face major issues.
"Antwerp would need to build new roads and bridges to get all containers to scanners from its scattered docks and may not be ready in time," the WSJ notes, quoting a Belgian official as saying it could cost the port more than a billion euros to meet the requirement.
In fact, in some cases it may take years in Europe to get past the environmental studies and hurdles needed to implement the requirements, if those obstacles can be surmounted at all.
The Bush administration has said it wants to cut the number of ports that ship containers to the U.S. to around 100 world-wide, from the 700 that do so currently. Reducing the number of foreign ports moving goods to the U.S. correspondingly reduces the number of points of risk and allows a more focused program, according to this school of thought.
But it also means U.S. companies may find some current sourcing points no longer have reasonable access to a port to ship globally sourced goods. Moving the containers by truck to one of the compliant ports will add time and cost, and in many cases may mean the sourcing location or company is no longer an attractive alternative.
The smart money says the requirements and deadlines will soften in some ways, as regulators decide how to implement the law. One U.S. Customs official said Washington would listen to concerns from importers and foreign ports. "We know this is a work in progress," the official said.
What is your opinion on the 100% container/cargo screening requirement? Do you believe it will ultimately be implemented? What will happen if some ports aren't ready, or the number of approved ports is reduced from 700 to 100? Let us know your thoughts at the feedback button below.
Do you agree or disagree? Share your perspective by emailing us at feedback@scdigest.com