For example, traffic at the nation's major retail container ports dropped below last year's levels late this summer, and the peak monthly volume for 2007 is now expected to fall slightly below last year's peak, according to the most recent monthly Port Tracker report from the National Retail Federation and research firm Global Insight. The illustration nearby, from the October Port Tracker Report, forecasts container volumes into the Ports of LA/Long Beach, the nation's busiest, will drop below 2006 levels for the month.
Combined with improved efficiencies in most US ports, congestion has suddenly become a non-issue. Rate pressures on container shipping into the US have also moderated substantially.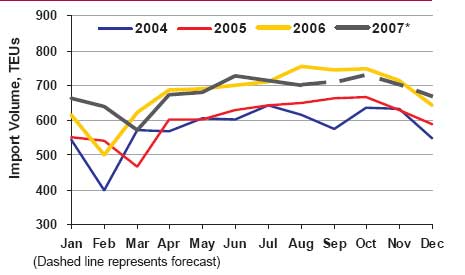 European Ports Remain Jammed
US exporters to Europe, however, need to pay attention to conditions at ports there. Import volumes from China are now surging in Europe, probably a couple of years behind the US curve.
A variety of political factors has also made it very hard for most European ports to address needed expansion, leading to growing congestion. (See European Supply Chains Threatened by Inability to Expand Ports.)
"Though congestion has gone away from the North American ports we track this year, it is still evident in some other parts of the world such as in the Asia - Europe trades where Europe's imports from Asia (especially China) have been growing quite rapidly, pressuring Europe's (and even some Asian port's) throughput capacity," Global Insight's Paul Bingham told SCDigest.
With US export volumes already responding upward to the growing weakness of the US dollar versus the Euro, making US goods less costly there, global logistics managers need to carefully analyze conditions and potential supply chain delays in moving goods to the European markets.
Bulk Shipping Rates Explode
With slowing demand and the continued increase in supply from ocean carriers, as more and more "megaships" hit the market, shipping rates for bringing containers into the US has slowed markedly from the 2004/05 period.
The exact opposite is the case in the area of bulk shipping, where demand is far exceeding supply, driving logistics costs incredibly higher. Capacity has not been added as rapidly, and markets like China and India are creating huge new demand for the ships as their economies require huge imports of commodities like metals and agricultural products.
According to the Wall Street Journal, the average price of renting a ship to carry raw materials from Brazil to China has nearly tripled to $180,000 a day from $65,000 a year ago.
In some cases, ocean shipping can be more expensive than the cargo itself. Iron ore, for example, costs about $60 a ton, but ship owners typically are charging about $88 a ton to transport it from Brazil to Asia.
The increased cost of global logistics for importers of these materials is huge, adding to the already upward pressure in the commodities themselves seen over the past several years, impacting manufacturing profits and pricing strategies.
The Baltic Exchange Dry Index, the most widely used indicator of world-wide ocean freight rates for bulk commodities, has risen about 170% over the past year. Many expect those rates to continue to climb through 2009, when enough new bulk freighters are expected to come on line to better balance supply and demand.
There are also huge log jams to unload these bulk ocean ships, which require different capabilities to process than container ships.
At Brazilian ports, ships often wait offshore for as long as two weeks for their turn to load or unload bulk ships. As of last week, 131 vessels were waiting to pick up or unload coal and iron ore at Australia's main ports, according to the Global Ports Congestion Index, which tracks wait times worldwide.
In the face of these logistics pressures, some companies are taking matters into their own hands. A division of India's Tata Steel recently began directly chartering its own bulk cargo ship. Other companies, especially in the minerals and metals areas, are doing the same.
Will it get any better soon? The Wall Street Journal quotes Clifford Winston, an economist at the Brookings Institution, as saying, ""There is no question that there will be [bulk cargo shipping] price increases. But, he says as usual, "I would qualify my concerns saying that you should give supply a chance."
Do you agree or disagree? Share your perspective by emailing us at feedback@scdigest.com