Consider Establishing an Electronic Commerce Agreement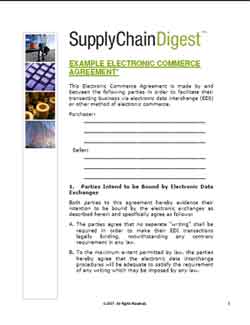 Until the laws governing e-commerce are well settled, sourcing managers should consider establishing an Electronic Commerce Agreement (ECA) with their more significant suppliers (a sample copy is available here: Example Electronic Commerce Agreement). The ECA pre-establishes agreement of both parties to create a contract without a physical writing or signature for each transaction.
It's also important to remember that that UCC and state commercial code requirements are generally not applicable to services. Therefore, an electronic contract may be binding to a services transaction even though it might not be enforceable for a commodity purchase.
It's smart for sourcing managers to utilize an ECA even for services contracting as well.
Elements to Consider before Creating the ECA
There are a number of areas that must be included when developing the ECA. For example:
Contract terms and conditions: It's critical to achieve clarity on such important items as warranty, liability, and other terms. An ECA can be utilized to establish agreement in advance on what T&C will govern the electronic transactions. This requirement is covered in section 3 of the sample ECA.
Contract administration: Presuming an enforceable contract exists with the desired T&C, other issues to be addressed include:

e-mail: Contracts can be established through written correspondence between parties, therefore be continuously aware that your e-mails could contain the elements of a contract.
"Don't let the informal nature of these communications lead us to be less than cautious about the contents and inadvertently create a contract," Gabbard cautioned.
Additionally, if the law requires a tangible "writing," an electronic medium may not satisfy the tangibility requirement. Therefore, if you are intending to create binding legal obligations with such correspondence, you may need to print and sign hard copies to ensure enforceability.
Record retention: Many local, state and federal laws require that certain records be constructed and maintained in a tangible form. Therefore, electronic records may not satisfy such legal requirements.
These requirements may necessitate that hard copy records be retained until electronic records are universally and uniformly recognized by local, state, and federal laws. Another aspect of this issue is the prospect of retaining electronic files for too long.
Indiscriminate long-term retention not only requires electronic storage capacity, but your organization could be required to produce all such records in the event of a lawsuit. Sourcing managers should consult with legal counsel to establish specific policies, procedures and guidelines for the creation and retention of records in electronic form.
Other legal issues: The new laws may enable parties to increase efficiency and to establish contracts with electronic exchanges, but they also create separate, but related legal issues that will ultimately need to be addressed:
Security: To ensure that electronic exchanges cannot be altered or counterfeited, electronic encryption technology will likely be required to provide needed protection.
Signature authentication: Since e-mail or electronic documents do not inherently provide a 'signature' which ensures that the sender intended to 'sign' the transmission and be bound by the communication, encryption technology will be needed to electronically 'sign' or authenticate such transmissions.
Confidentiality: Standard e-mail is subject to being intercepted electronically, creating confidentiality and privacy issues for sensitive communications. While the technology continues to improve in this area, prudent business practices may necessitate corporate utilization of conventional communications, such as courier services for extra-sensitive matters.
As companies widely embrace the opportunities for e-procurement, it's critical to not let the convenience and cost savings obscure the need for solid contracting processes.
Do you agree or disagree? Share your perspective by emailing us at feedback@scdigest.com