What Actually Happened
Kmart, which had the largest vendor base by far of those retailers mandating bar code compliance, had tremendous trouble getting the program off the ground.
The big issues: consumer goods manufacturers complained that there wasn't enough (if anything) in it for them, and the technical challenges turned out to be much greater than anyone expected.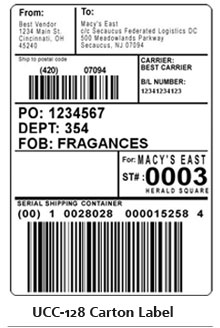 Sound familiar?
In fact, years after the Kmart mandates, thousands of its vendors had never complied.
Ultimately, however, many retailers did receive many benefits from Quick Response and UCC-128 carton labeling, but it took many years. In that sense, the four years that have passed between Wal-Mart's 2003 announcement of a partial mandate for its largest suppliers to beginning tagging cartons with EPC/RFID tags, and the modest progress that has been achieved by this point in 2007, shouldn't seem unusual at all. In fact, Wal-Mart has actually invested more in its own supporting systems for RFID in DCs and stores than most retailers in the 1990s did in support of Quick Response. Back in the 1990s, many consumer goods manufacturers were surprised and sometimes angered to visit Kmart distribution centers at the time and find that the UCC-128 labels they were fined substantially for if missing or incorrect were simply not being used as part of the receiving process.
The "gold rush" for vendors offering UCC-128 compliance system also didn't materialize. A few had a brief run at success, but the expected number of customer sales, which most expected to be in the thousands, just never happened. Companies delayed adoption, found home grown ways to achieve compliance, used third-parties, or otherwise identified ways to avoid making an investment they didn't see paying off in the short term.
Indeed, it wasn't until bar coding and data collection solutions became common in distribution processes as a whole, and embedded in Warehouse Management Systems, that consumer goods vendor support for UCC-128 labeling and ASNs gained critical mass.
That took time, and says that rather than moving RFID adoption in logistics process from Wal-Mart compliance back into the DC, as many expected or hyped, RFID tagging for retail will take off when consumer goods manufacturers can use EPC tags for their own benefit in the DC, at which point Wal-Mart compliance comes for nearly free.