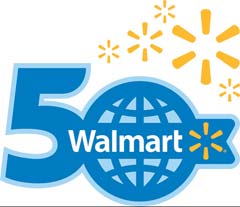 2006: Walmart, led by CEO Lee Scott, really starts to push sustainability message and initiatives. Scott goes on big media tour with the message.


2007: With stock price stuck in concrete, Walmart said to be developing super-secret plan under incredible security that might involve spin out of Sam's Club unit and other moves, but nothing ever happens.


2009: Walmart's RFID case tagging initiative is for all intents and purposes dead. Company does later move ahead with (better) plan for item-level tagging of apparel.


2009: Amid deep recession, Walmart starts taking thousands of marginal SKUs off its shelves in in an attempt to reduce store clutter, focus on faster-growing product categories, and improve supply chain efficiencies.


2009: Walmart announces plans for a supplier sustainability index, basically a "green" vendor scorecard, that will be rolled out in three phases. The program is still evolving today.
.
2010: Walmart announces major plan to take greater control of inbound freight from vendors, but program grows slowly from there amidst much pushback from suppliers.


2010: WalMart announces an ambitious plan to dramatically increase the amount of "local" produce it sources and sells in the US and around the world, says it will invest $1 billion in related logistics improvements for produce/fruit.


2010: Walmart announces a sweeping plan to consolidate its global procurement functions and reduce the use of intermediaries in its global sourcing processes, leading to savings of billions of dollars per year.


2011: Walmart reverses course, says it is bringing 8500 SKUs back to store shelves, as removal blamed in part for slumping same store sales numbers.


2012: Walmart appears caught in scandal of sorts involving alleged bribes in Mexico years before and more importantly alleged cover-ups by top execs, but issue seems to have faded from view.


2012: Walmart stock price reaches all-time high in mid-summer, surging in 2012 after years of flat performance.
How important has Walmart been to the development of supply chain practice? What do you think its most important contributions were? Anything major we missed in our timeline? Let us know your thoughts at the Feedback section below.
SCDigest is Twittering!
Follow us now at https://twitter.com/scdigest