SCDigest Editorial Staff
The supply chain industry sadly lost one of its most respected thought leaders this week, as AMR Research's John Fontanella passed away Sunday night in Boston after suffering a heart attack last week.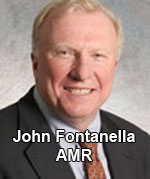 "This is a real loss for the industry of a great man," said SCDigest editor Dan Gilmore. "John certainly had the knowledge and the smarts about supply chain, but he was also able to combine those gifts with warmth and personality in a way that made him unique in the industry."
Fontanella started life out as a supply chain practitioner, first in a variety of operational roles for computer maker Digital Equipment Corporation (DEC) and later as director of worldwide logistics for Microsoft Corporation. As he moved on to become an analyst with AMR in the 1990s, Fontanella often used the stories and principles learned in those operational roles to illustrate key points with technology vendors and end customer clients.
After 10 years with AMR, where he established a large reputation and following, in 2004 Fontanella took a brief personal sabbatical, and then landed executive roles at two other research firms, first at Yankee Group and then Aberdeen Research, both also based in Boston. But he told SCDigest's Gilmore that his heart was always with AMR, and he returned to the firm as a Vice President in 2006.
"When I walked back in the door, it just felt like home," Fontanella told Gilmore at the time.
Most recently, he was primarily focused on supply chain execution issues and technology, heading AMR's coverage of RFID, Warehouse Management Systems, global trade management, supply chain visibility, and several other subject areas.
"John was very broad in his knowledge and coverage," Gilmore said. "I often saw him at various trade events, and he we had a great time discussing a variety of supply chain issues. He was wonderful to talk to."
"All of us at AMR are shocked and saddened," noted AMR executive Bruce Richardson, in an email announcing the tragic news.
Do you have any memories of John Fontanella? Please share them at the Feedback button below.