Rising oil prices are wreaking havoc at the consumer pump, and driving higher the cost of plastic resin, wax and many other petroleum-based products used in manufacturing.
But for supply chain and logistics professionals, the most immediate impact is generally in the cost of diesel fuel, as carrier or internal fleet operating costs and fuel surcharges rise in lock step with the price of fuel.
The graphic below, from the US Energy Administration (trend arrow added), shows the incredible recent rise in US diesel prices over the past 15 months or so. That rise followed a sharp increase in the 2003-2005 period, and then a roller coaster 2006 that saw a steep rise in the middle of the year, then a short period of steep decline that left things pretty much where they started.
It's been all uphill from there.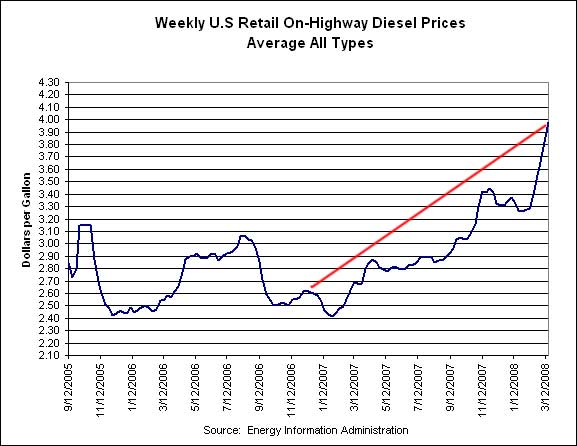 The increase from January, 2007 (about $2.40 cents per gallon) to the current price of about $3.95 cents per gallon is an increase of about 65%.
Agree or disagree? What is your perspective? Let us know your thoughts at the Feedback button below.