By George Anderson, Editor-in-Chief, RetailWire
A new study from RIS News and IHL Group concludes retailers are losing $93 billion in sales annually as a result of being out-of-stock on the products consumers are looking to buy in their stores.
According to the companies, retailers could increase store sales by an average of 3.7 percent if they could manage to keep in-stock. RIS News and IHL came up with their figures after surveying 124 retailers who operate more than 85,000 stores and generate $460 billion in annual sales. The two biggest reasons given by respondents as to why stores run out-of-stock are buyers making planning mistakes and store management failing to execute.
All channels have a large upside opportunity if they can maintain stock levels. The vertical with the biggest upside is specialty retail, which could increase same-store sales performance by 7.1 percent if it could optimize assortments and keep product on the floor.
Discussion Question for the BrainTrust panel: Why have out-of-stocks remained such a big issue in retailing for so many years with so little apparent progress? What has to happen to finally make this a minor if not a total non-issue?
RetailWire Instant Poll Results: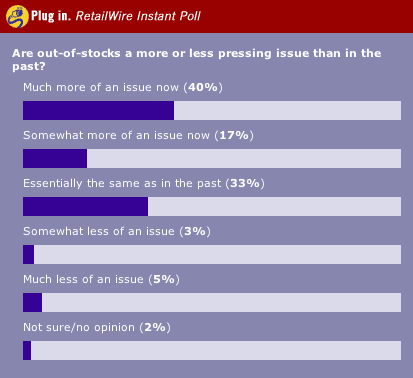 RetailWire BrainTrust Comments:
Allocation has always been an issue. Let's say that hot and trendy out of stocks (Wii's, PS3's, iPods, etc.) are the fault of the manufacturer and there is really nothing that can be done from a manager's point of view.
But stores should implement a 'never-outs' program that managers must maintain throughout the business day. Depending on what the retailer sells would determine what is on the 'never-outs' list. When there is a structured procedure for dealing with stock levels, the manager can deploy resources as necessary to make sure the shelves are full.
Obviously, if it's a distribution issue, that must be addressed corporately. On a store level, the 'never-outs' program is the best way for managers and section captains to fill those holes and maintain service levels.
- Doron Levy, President, Captus Business Consulting
Dan Desmarais, VP, Category Management Solutions, JDA Software Group

Virtual inventories are one of the key solutions to reducing out-of-stocks.

---
What do you say?
Send us your comments here
Virtual inventories are one of the key solutions to reducing out-of-stocks. This means that your forecasting and replenishment systems need to know an original unit count, maximum capacity of the position(s), and a movement forecast. The plan is that the case arrives at the shelf just before the out-of-stock occurs.
Here's how the system can break down:
The maximum capacity was entered once when the item was set up in replenishment and is not dynamically updated;
The minimum presentation stock (the level below which you do not want to drop) was entered once when the item was set up in replenishment and is not dynamically updated;
MIX and MAX data may be generic and not store-specific;
The maximum capacity may not be enough to support the case pack plus the minimum presentation stock;
The result is that units from a full case that don't fit on the shelf with their peers get placed somewhere else and the system starts to fall apart...
The above tasks, when executed well, only get the goods to the store. Labor planning and execution is another matter.
- Dan Desmarais, Vice President, Category Management Solutions, JDA Software Group
Out-of-stocks are a symptom of a much more pervasive ailment that plagues most of our industry. Merchandising plans assume accurate compliance at store level, but this rarely happens because there is no implementation plan whatsoever. Furthermore, there is no visibility of the shelves or selling floor that could provide a tool for managers to plan or measure implementation.
As a result, the demand signals used to drive replenishment are unreliable, causing endemic over- and under-stock conditions. Case packs are often too large for slow moving items with few facings, resulting in double handling of merchandise and idle cash. Meanwhile, fast movers run out of stock by Saturday afternoon and nobody detects the problem until the data are analyzed at the end of the month.
RFID may indeed be one element that can contribute to greater visibility of shelf conditions. However, it is not a solution in and of itself. A true retail implementation solution must incorporate implementation planning, actual compliance, and measurement of merchandise conditions in near-real-time, all linked together by a comprehensive workflow management and message management tool set.
This Plan-Do-Measure approach to in-store implementation will reduce incidence of both OOS and upstream inventory voids and help tune the supply chain to better match both shopper demand and store capacity. $93 billion is a very motivating number. Let's remember that the solution to this problem is not a software application - it's a system of business practices enabled by new and better tools.
- James Tenser, Principal, VSN Strategies
Read the entire story and RetailWire discussion at:
http://www.retailwire.com/Discussions/Sngl_Discussion.cfm/12690
Get Plugged in with RetailWire.
Membership in RetailWire.com is free to all retail and related industry professionals. Simply go to www.retailwire.com and click the FREE REGISTRATION button.