In late 2014, I wrote a couple of columns in the topic of "What would you tell accountants about supply chain?"

That was prompted by my making a presentation in Orlando to a large group of accountants from the well-known firm BDO, and I turned that material into some columns because it turned out that most of what made sense to discuss with accountants also was quite worthwhile for supply chain professionals as well. In fact, I will be dusting off some of that material next week for a presentation to the CSCMP Toronto roundtable.

The subject also seemed to hit something of a nerve with our audience, as we received a good number of generally excellence responses from our readers. So this week, in a luxury I haven't enjoyed for some time, I am going to highlight some of the best of that Feedback.
Gilmore Says:

In effect, he says, "by challenging a company's "supply chain norm" at a basic level, there can be surprising yet simple improvements that result in improved competitiveness.""

---

Dr. Chris Gopal, long time consultant now at the Drucker School of Management at Claremont University, liked the column but offered a few ideas to add:

"This is excellent. A couple of points for feedback: Taxes - the global supply network is a critical determinant of the global tax bill that companies pay, in terms of location, value-add operations, facilities, employment, inventory stocking (inventory taxes), etc.," Gopal noted.

Equally important, he said, "the traditional notions of inventory as a bad thing are moving fast towards inventory being a competitive weapon, particularly as the cost of capital is so low. And perhaps consider that accountants should now view inventory explicitly in terms of "unsaleable" or waste, "channel stuffing," a definite liability versus a true asset on the books."

He also suggested I might have emphasized the increasingly important global trade management requirements (and penalties) and how they have become core supply chain competencies that must be mastered.

John Kirkegaard, president of consulting firm DCRA Inc., also liked the column but offered some additional suggestions.
"Aligning a cost accounting system around the cash flow, inventory flows, outside commitment flows (e.g. purchasing, contract manufacturing) is a secret weapon for better business management," Kirkegaard wrote us. "Accountants have been trying to do this for years but lack a model to follow. If they would take a lead from a supply chain model to capture cost accounting everyone would win."

He also offered what says are "facts" relative to accounting and the supply chain:

1. Measurement of supply chain activities is an early warning look at emerging problems that provides a signal far earlier then "accounting" typically does.

2. An S&OP or supply chain plan should generate a future look at how the balance sheet and income statement will change.

3. Supply chain measurement of inventory flows serves as a great "audit" tool to understand what is happening in the business.

4. Leverage of supply chain excellence in managing lead times can improve working capital positions and create competitive advantage.

The very smart David Armstrong of Inventory Curve liked to see my inclusion of the DuPont model to connect finance to the supply chain for these BDO accountants.

"I've been using a version of the DuPont model since the seventies. The version I was exposed to was called the Strategic Profit Model (SPM), but it is the same thing," Armstrong wrote. "I believe I was first exposed to it in a seminar put on by Dr. Bud LaLonde of Ohio State. To me, it is one of the most valuable tools around, both for finance people and for those of us in supply chain."
He added that "To an extent, I've had similar experiences to yours where I got a lot of blank stares from finance people. When I asked if they were familiar with the model, many have indicated they were unaware of it. I think one of the problems is that the model has typically been presented as a generic model, showing relationships, but void of any data. That makes it too abstract."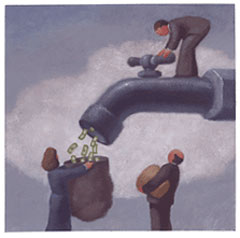 However, Armstrong says, when you load the with real data, "the financial picture of organizations comes into view in an easily comprehensible way. In one company I worked for, we shared detailed financial information with all of our employees. Using the SPM, we not only shared the data with the employees, but they were able to track their individual job/work efforts all the way to Net Profit and ROI. They got it!"
Alan Denholm in California liked my approach quite a bit, but thinks it's time for a new model between accountants and the supply chain."
"Current accounting practices, which have been around for decades, are not keeping up with the changes in supply chain," Denholm says.
This is especially true, he says, as supply chain start to encompass cross-company processes.
"Accounting systems primarily concern themselves with intra-company data, while supply chains are increasingly inter-company in nature, with complex relationships and trade-offs that accounting has a hard time capturing. Concepts like the costs and value of "collaboration," really have no accounting parallel," Denholm says.
Herb Shields of HCS Consulting has been in a similar situation, he tells us.
"In 2013, I gave a talk to the Illinois CPA Society on inventory. I asked myself the same question that you did - how in my case can I make inventory interesting to CPAs and what should I suggest they do to influence it," Shields wrote us. "I liked your approach to the broader topic of supply chain, and how you related it to cash and profitability. In both cases - supply chain or inventory- if management outside of supply chain sees the connection to profits and cash as a result of a presentation, I think we have done a good job."
My good friend Gene Tyndall of Tompkins International also weighed in. In the 1990s, he famously led the supply chain business for accounting firm E&Y before that era came to an end. But he is well versed in accounting and the supply chain.
"The models and examples you referred to are meaningful," Tyndall wrote. "However, in my experience (coming from E&Y), and talking actively with CFOs and accounting managers over the years, "keep it simple" is the best place to start."

He suggests that might be with the six supply chain "mega processes": plan, buy, make, move, distribute, and sell. Then connect those with the four keys "flows": products, information, cash, and work.
"If finance and accounting managers can learn all these basics, they can then participate better in supply chain strategies and operations," Tyndall says. "All too often, the terminologies used by either profession are misunderstood or misdirected. Once F&A and supply chain managers start collaborating, some important things can happen for the company and its customers."
Peter Malone of PCM has done a lot in this area, and he says "I have learned that finance folks are often attracted to discussions related to supply chain 'simplicity' and resulting cost savings potential - especially if they believe it possible to make bottom line impact without spending lots of money."
Very often, he says, "supply chains have at least some historic component that results in complexity, inefficiency or waste of some kind, and this can become locked into the supply chain value map without a business realizing it (a bit like 'boiling a frog' as the old saying goes!)."

Finance managers are very interested if you can show that that by getting back to supply chain basics, "it is often possible to strip out unnecessary complexity or to make simplifications that result in lower costs, smoother communications, reduced inventories, improved material and cash flow processes that result in overall improved delivery service, as a supply chain is more optimized."

In effect, he says, "by challenging a company's "supply chain norm" at a basic level, there can be surprising yet simple improvements that result in improved competitiveness."

Good stuff. There were quite a few more, but I am out of room. If we get enough feedback from today's column, maybe I can write a part 2!

Any reaction these readers comments on accounting and the supply chain? Let us know your thoughts at the Feedback button or section below.