The world is still in some sort of great whirl, and looks like it is going to stay that way for a long while. Not very pleasant, is it?
Economics of course is at the heart of the issues from unemployment to European debt to the financial time bomb of the aging populations in most of the developed world.
With that out of my system, it's worth noting that it seems countries across the globe sees the path to salvation from this mess is to recharge their manufacturing sectors - even China.
Gilmore Says:

If America does decide to rebuild its infrastructure, will we be doing it with steel made in China, not Pittsburgh or Middletown, OH or Gary, IN?

---

Consider that just in the past couple of months:

In India, the government said that it will begin debating a National Manufacturing Policy that aims to raise the contribution of manufacturing in the country's GDP from 16% currently to 26% by 2025, saying this will create 100 million jobs in next 10 years.

In Australia, the country's Chamber of Commerce and Industry called for the government to reduce taxes and regulatory burdens to keep the country's manufacturers more competitive with the rest of the world. How serious is the challenge there? New start-ups in manufacturing in Australia have dropped from an average of about 700 each year over the past three years, to just 14 in the first six months of 2011. Wow.

In August, Luo Jun, CEO of the Asian Manufacturing Association, wrote that Chinese governments needed to make moves to open up lending to businesses, especially smaller manufacturers and those in the coastal areas such as Guangdong and Zhejiang provinces, to help them weather the storm until the domestic market picks up, among other measures, to counter growing weakness in its manufacturing sector.
There are similar efforts/concerns in the UK, Brazil, and of course the US.
There are a couple of ways to look at this.
First, Boston Consulting Group, Accenture, my friend Dr. David Simchi-Levi of MIT, and others have lately been reporting that rising labor costs in China are going to soon (2015) create a "tipping point" at which the total cost of manufacturing there becomes high enough that it will be as cheap to produce in the US when total supply chain costs (transportation, inventory, long lead time issues, etc.) are factored in. BCG in fact just said some 3 million jobs may return to the US from just seven industry sectors (transportation goods, electrical equipment/appliances, furniture, plastics and rubber products, machinery, fabricated metal products, and computers/electronics) that it believes are closest to the tipping point.
To be clear, BCG doesn't believe Western countries will shutter Chinese factories, but rather in most cases they will simply dedicate them to Asian markets, and rebuild capabilities in North America for the US market.
I would note some caveats. The BCG analysis really uses costs in the most expensive parts of China in comparison with the least cost areas of the US. "When all costs are taken into account, certain US states, such as South Carolina, Alabama, and Tennessee, will turn out to be among the least expensive production sites in the industrialized world," BCG says.
The graphic below from BCG's report illustrates this, showing an estimate that the cost differential in manufacturing alone between the high cost regions of Chin and lower cost areas of the US will fall to just 10% by 2015.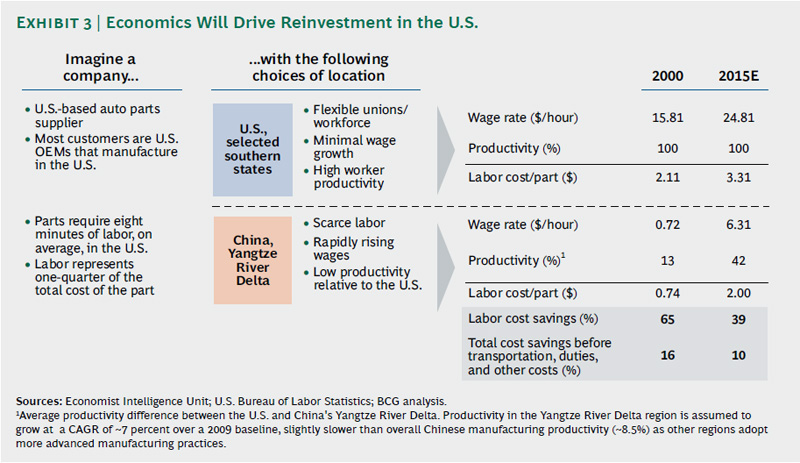 Source: Boston Consuting Group
That leads of course to questions around whether Asia production will simply shift from the East coast of China further inland where costs are still low and rising less quickly, or to other Asian locations. And always looming out there is Mexico, which if it ever really got its act together could take a large chunk of this returning manufacturing volumes (remember Ross Perot's "great sucking sound?").
I will note US companies are building something of an aerospace hub in Mexico, led in part by Bombardier's new factory in Querétaro that will build its next generation Learjet. Mexico exported $3.5 billion of aerospace goods in 2010, and that figure is going higher.
But that aside, if the cost trends are true, can the US really still make it happen? Or is the capability too far gone, and the level of friction in building factories simply too high?
Dan, what are you talking about? , you might say.
Well, consider this: the majority of the steel going into the new San Francisco-Oakland Bay Bridge is being supplied by a Chinese company that had little bridge steel making experience.
Why?
"I don't think the U.S. fabrication industry could put a project like this together," Brian Petersen, project director for the American Bridge/Fluor Enterprises joint venture, told the New York Times earlier this month. "Most U.S. companies don't have these types of warehouses, equipment or the cash flow [that the Chinese companies do]. The Chinese load the ships, and it's their ships that deliver to our piers."

The winner of the steel contract was in fact state-owned Shanghai Zhenhua Heavy Industries Company, a company that at the time of selection made port cranes and had no bridge building experience. But California officials and executives at American Bridge said Zhenhua's advantages included its huge steel fabrication facilities, its large low-cost work force and its solid finances. The company even had its own port and ships.
The obvious question: if America does decide to rebuild its infrastructure, will we be doing it with steel made in China, not Pittsburgh or Middletown, OH or Gary, IN? (Note: thanks to Darryl Parks of Clear Channel radio/700 WLW in Cincinnati for pointing this story out).
This isn't an isolated question. As the scandal of sorts over the awarding of loans to green energy companies in US goes on here, you might have noted that the latest involves a $529 million loan guarantee to a electric car company that was planning to build its vehicles in Finland. Why? Because the company says it could not identify a US-based contract manufacturer that was capable of assembling the vehicles.
Whether this is accurate or not I don't know, but it would be worth finding out.
As I noted at the time, a 2009 article in Business said that many US manufacturers " find it almost impossible to achieve scale in the U.S." due a variety of hurdles, from taxes to red tape encountered when creating large factories here.
The loss of supply bases in many industry sectors is also an issue. For example, a few entrepreneurs that have tried to start new US-based shoe manufacturing companies here have found the lack of suppliers for everything from shoelace hole grommets to technicians who can repair production equipment have often been fatal inadequacies. They've gone out of business, or moved offshore in almost every case.
So, the point just is that the whole world is understandably chasing renewed or expanded manufacturing prowess. I hate to sound overly dramatic, but it really is an economic war for this business. Labor rates are one component, but by no means the only component.
I don't think the US and many other Western countries have really figured this out yet.
Were you surprised to learn the steel for the new Oakland bridge is being built in China? Do you expect a return of manufacturing to the US, as many are not predicting? Or has the US really lost its ability to build large manufacturing complexes? What needs to be done if anything? Let us know your thoughts at the Feedback button below.