Earlier this month, as we put together our list of noteworthy supply chain news and events of the first half of 2011, I was struck by how many of the stories had some kind of connection to the US government. So I thought it might be handy to summarize a number of active/pending government issues that either directly or indirectly impact the supply chain.

The transportation industry has long been subject of much regulation and government scrutiny, so I guess maybe there isn't much of a change there in terms of activity, although it seems to me there is more all told going on in that sector than usual. Of course, perhaps the most impactful government move with regard to transportation in recent history was the deregulation of the trucking industry under the Carter and Reagan administrations (beginning actually even before that). The Motor Carrier Act signed into law by Jimmy Carter in 1980 and subsequent regulatory changes under Reagan led to sweeping changes in the trucking industry and was the catalyst for a steady drop in the cost of truck transport for more than a decade that has persisted since (fuel costs aside).

Gilmore Says:

As we have been reporting, there is a little recognized case in California that could ultimately have a big impact on US logistics.

---

So, here is my quick rundown of key legal/government issues connected to the supply chain.

Hours of Service Changes: The Federal Motor Carrier Safety Administration dropped a "lump of coal" in the trucking industry's stocking, according to the American Trucking Associations, when it late December it announced it was considering another round of changes to HOS rules. The biggest potential impact was reducing the maximum driving time from the current 11 hours to 10, though the FMCSA itself was uncertain whether it would favor that change or not. Other proposed changes included reducing the driving window from 14 hours but allowing it t be extended to 16 hours twice per week; reducing the time a driver can be "on duty" to 13 hours within the driving window; drivers would be limited to seven hours of driving after their last off-duty or sleeper-berth period of at least 30 minutes - together with the 13 hour "on-duty" limit, the provision appears yet another attempt to provide for mid-day breaks; retaining the the current 34-hour restart rule but it would have to include two periods between midnight and 6 a.m. and could be started no sooner than 168 hours (7 days) after the beginning of the previously designated restart.

The FMSCA and various interest groups believe the changes would improve road safety and "driver health." the ATA and others say safety has been improving steadily as is, and this would do little to further improve that, while adding substantially to trucking costs. There have been dueling studies. A final ruling is expected any day.

National Labor Relations Board Takes Action to Block New Boeing Factory: In what many saw as a stunning move, the NLRB in May filed a lawsuit seeking to block the opening of a new, nearly complete Boeing factory in South Carolina where some production work for the 787 aircraft would be moved from the Seattle area. Workers at the new factory had earlier rejected a union drive, while the Seattle area plants are union shops.

Previously, a Boeing executive had said that part of the reason for the move was to avoid the costs and production delays of the fairly regular strikes the company had experienced in its Washington state operations. That means, according to the NLRB, that Boeing was retaliating against the workers for striking, which is illegal under federal labor law.

This is the first time such as move to block a new factory has ever been made, and drew questions even from some labor supporters. A trial has been underway for two weeks in a federal court in Seattle. If the NLRB wins, it could bring a lot more scrutiny to US manufacturers moving production within the country and possibly outside it. Note to companies: do not publicly discuss labor issues as connected to any such moves.

NLRB Wants to Speed Unionization Process: In what many see as a move to help union campaigns in the face of the death of the "card check" bill in Congress, the NRLB in June announced changes to rules relative to unionization efforts that many believe would put employers at a disadvantage. Rule changes include: forcing companies to give more employee information(e.g., phone numbers, email addresses, work location and shift) to union organization organizers to facilitate communications; employer would have to identify vote issues before hearings or risk waiving them, as employers would be barred from raising issues not covered by their prehearing statements; and the pre and post-vote hearings will start earlier, with more limited grounds for postponement.

These and other proposed changes would in practice likely speed the time from when a union campaign is launched to when the vote is taken. Most believe drawing out the process gives employers an advantage, as employees receive more communications about the risks/downsides of unionization, and lose their initial fervor.

Public comments are being accepted through mid-August, with a final decision late this year. Business groups are aggressively fighting the move.

New - and Different - Highway Bill Finally Expected: The last federal highway bill was passed in 2008, and expired in 2009. It has been extended since then by continuing resolutions. A once expansive bill considered by the House when under Democrat control is likely to change substantially under the now Republican-controlled House and anti-deficit pressure in Washington.

Supply Chain professionals can look at it either way. A new bill is likely to emerge to committee in the next two months, and it likely will significantly scale back once considered plans of extensive investment in US transportation infrastructure. However, those dollars likely would have come in part by significant increases in diesel fuel taxes to fund the programs. The new bill seems unlikely to contain provisions for the "infrastructure bank" proposed earlier this year by President Obama.

Bill to Allow Heavier Trucks tied to Highway Bill Action: Changes to federal regulations to allow heavier trucks on interstate highways, pushed by a group of shippers called the Coalition for Transportation Productivity, will likely see its fate tied to the overall highway bill. Meaning that such language will be included as part of that overall bill rather than being voted on as a separate measure. The new law if passed would allow total truck weight to increase from the current 80,000 pounds to 97,000 with the requirements for an additional sixth axel on the trailer for safety.

That would give a significant boost in truck capacity for shippers who currently weigh out loads before they cube out. The change is being opposed by some safety groups - and railroad interests - but has 50 co-sponsors in the House across party lines. I think it will pass, but then work will also have to be done at the individual state level to make it effective for shippers.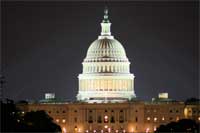 Move for Local Regulation of Trucking Uncertain: As we have been reporting, there is a little recognized case in California that could ultimately have a big impact on US logistics. A battle has been going on between The Port of Los Angeles and the ATA since 2007, when the port announced a "clean trucks" program that put a number of cost and regulatory hurdles in the way of independent drayage drivers, almost guaranteeing their demise at the port.

Nominally an environmental program, many believe the real motivation is to increase unionization of port drivers by pushing the work to larger trucking firms. The fundamental issue is whether a local entity (the Port) can supersede federal regulation of the trucking industry in the name of environmentalism, which could open the doors to crazy patchwork of regulations. There is also a bill pending in the California legislature, initiated by a long time union activist, that also would allow such local action.

The ATA lost a court decision in 2010, but the judge admitted her reasoning was "novel," and stayed her verdict upon expected appeal. That appeal is now being heard in federal court in California. Keep tabs on this one on SCDigest.
Surface Transportation Board Likely to Take Action to Address Rail Bottleneck Pricing: The STB has been looking to address the scenario where captive shippers have only one carrier option, shown to increase prices significantly, for some time. The NIT League just weeks ago submitted a proposal that features "reciprocal switching," a form a competitive access that requires railroads to move cars from other carriers for a predetermined fee. I expect something close to this will be approved by year end or early 2012, but it will take some time to implement the changes.
EPA Takes on Carbon Emissions on its Own: In the absence of carbon emissions law from Congress, the EPA under chief Lisa Jackson has taken action on its own to regulate greenhouse emissions, generating much controversy in the process. New rules have already been issued for power plants and manufacturers , and soon we are likely to see new regulations enacted on ozone emissions that Dow Chemical's CEO says threatens "to seriously impede economic expansion" and "discourage capital investment." These EPA actions will be an on-going story.

Free Trade Agreements with South Korea, Columbia and Panama still on Hold: Long pending free trade agreements with those three countries, which once looked finally ready to go through, now on hold as Democrats push for more funds for those said to have been displaced from jobs from the agreements. All three FTA'S likely to go through at some point, however.
Those are the top issues as far as I see. There are more. We will keep you posted.
Any major government actions/issues that you see impacting the supply chain? Can you share your opinion on any of the above cited by Gilmore? Let us know your thoughts at the Feedback button below.