I had a good time in Round Rock, Texas.
A few weeks ago, I was there along with Dr. David Simchi-Levi of MIT to film our Videocast that was broadcast Wednesday on Dell's Supply Chain Transformation. The team at Dell, from Annette Clayton, VP of Global Supply Chain and Operations, to a number of supply chain, communications and video professionals, was first rate and universally friendly (thanks Bruce Raven). You can see an on-demand version of this outstanding broadcast here: Dell's Supply Chain Transformation Videocast.
It was our biggest event ever, and I believe the largest on-line event in supply chain history. We had a huge audience from around the globe.
Gilmore Says:

Can this create more problems than it solves? Yes, is the simple answer, if you don't do it well. What you need to do is leverage the synergies where you can find them, as Simchi-Levi explained during the broadcast, using Dell's physical supply chain network as an example.

---

I frankly learned a thing or two. When Dell announced in 2008 that it was moving into the retail business and making other related changes to its supply chain, it really did seem to me like the end of an era. The primary corporate icon of supply chain excellence was giving up on its legendary make-to-order model, outsourcing large swathes of manufacturing, and seeming to move back to the supply chain field it had been previously outdistancing by many lengths.
But as many of our readers noted at the time, the customer has to drive the supply chain. There was a significant portion of the market, especially globally, that wanted to buy a different way. To grow, Dell had to expand its customer value proposition to reach different market segments. That required different supply chain strategies across multiple dimensions. Dell wasn't giving up on make-to-order - it remains a multi-billion business - it was adding new supply chain capabilities to serve markets and customers that wanted something else.
What impressed me most in this great discussion was the way Dell attacked to challenge. Many if not most of us have heard of the concept of "Voice of the Customer," if not been actually involved in such exercises.
But when I have experienced it or heard of its practice, it has generally taken a strong marketing and product design slant. What I believe Dell did exceptionally well was to use Voice of the Customer "end-to-end" (which Clayton said is a favorite term inside Dell), fully embracing the supply chain.
The slide below is taken from the Videocast. I really loved the customer-centric approach along each stage in the customer lifecycle ("I need a solution"; "My order is in production"; etc.). We've written several times before about the concept of "Stapling Yourself to an Order." Dell has done exactly that, and aligned its supply chain people, processes and technology to meet customer needs at each step, but here is the critical point: Dell recognized those answers and capabilities were different for its different customer segments and hence the supply chains it needed to build (e.g., customer direct versus retail).

There has been talk for years about the question of "How many supply chains do you need?," dating back at least if not before to a well-known article with that title. Interesting reading, for sure, but how many companies have really worked their way through that? Don't most companies in reality have one supply chain that they try to make work for everyone?
There really is something going on here that I believe will be the key new supply chain trend over the next decade. Effectively "Building the Supply Chain from the Customer Back" will be a new expertise that companies need to acquire. Procter & Gamble, that perpetual motion supply chain machine, has been talking about building its supply chain from "the shelf back" for a number of years now. Dell's "Voice of the Customer" orientation is another manifestation of the same thing. Nick LaHowchic, one of the great supply chain executives of all time at Becton Dickinson and The Limited Brands, and co-author Dr. Don Bowersox of Michigan State, echoed some of the same points in their excellent book "Start Pulling Your Chain" in 2008.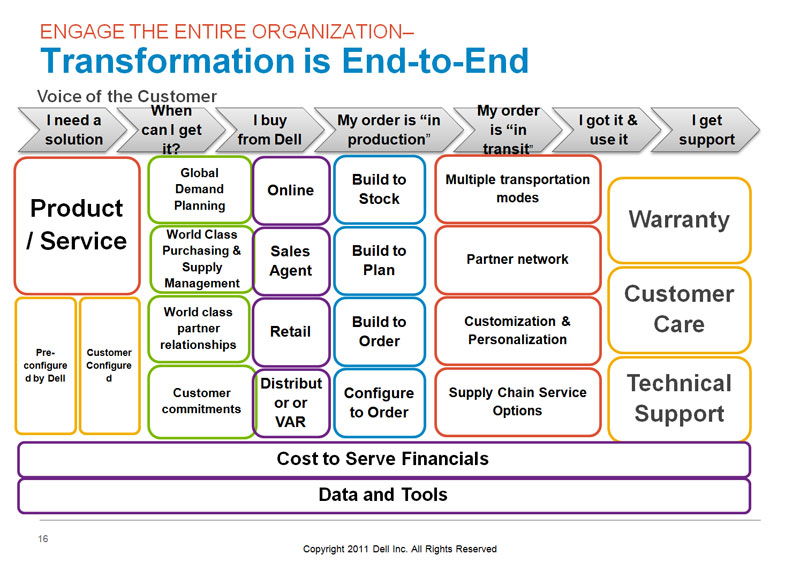 Ah, but most companies don't have just one type of customer, do they? So we need to build perhaps several supply chains back from different types of customers. How the heck do we do that?
Well, Simchi-Levi (Operations Rules) and Dr. John Gattorna (Dynamic Supply Chains) have offered complementary views of how to do that segmentation in recent books.
In fact, Simchi-Levi was a key consultant to Dell in its supply chain transformation, and helped Dell think through how many supply chains it needed and what capabilities were required for each based on unique "customer value propositions."

But couldn't this approach actually lead to supply chain chaos and complexity, as you have unique supply chains for many different customer segments? Might not Dell need new supply chains for say mobility products, or who knows what down the road besides PCs sold direct and those sold through retail?
Can this create more problems than it solves? Yes, is the simple answer, if you don't do it well. What you need to do is leverage the synergies where you can find them, as Simchi-Levi explained during the broadcast, using Dell's physical supply chain network as an example.
When we connected with Dell on this broadcast, I was a little surprised, as Dell had been largely quiet about its supply chain since it announced its major change in strategy in 2008. Unbeknownst to many, until shortly before that, Dell for all its supply chain greatness, did not have a truly integrated supply chain organization, or true "chief supply chain officer." That changed in 2007, when Michael Dell took the CEO reins back, and brought in Michael Cannon as President of Operations, basically a CSCO role. It was Cannon in April 2008 who detailed for Wall Street analysts Dell's new supply chain strategy for the first time.
Less than a year later, he was gone. Why? I have never heard a real explanation. I do know he was a former CEO (at large contract manufacturer Selectron), and as I have seen personally, it's often hard for a former CEO to take a secondary role again. Just a guess.
Since then, there was a heck of a lot going on "under the radar" in terms of Dell's supply chain. Clayton, an ex-GM executive, took Dell's nascent integrated supply chain organization to the next level. A tremendous amount of work and change happened, under a comprehensive "Program Management Office," to both build that integrated organization out and to develop the right supply chains for the right customers and markets. That included tough decisions about what needed to operate separately and what processes needed to be shared.
I'm at the end of my space, and will end with this: the bottom line is the results, and as Clayton detailed in the Videocast, they speak for themselves: 300% reduction in forecast error, 30% freight cost reduction, and a 30% reduction in manufacturing cost. There were even more some more detailed metrics in the planned presentation for awhile, but alas, Dell's investor relations group made them take them out.
Dell had record earnings in 2010. Product availability improved 37%, and order-to-delivery times improved 33% over 2009, according to the recently released financial statements.
From my view, the key lessons are these: Really, really build the supply chain from the customer back. Build separate supply chains to meet distinct product-market needs, but look for synergies to reduce complexity and cost. Take a very disciplined approach to supply chain transformation, recognizing the true scale of the task. Dell's supply chain is back.

You will get even more out of the full Videocast and excellent Q&A.

Home Depot, Kimberly Clark, Dell - these are the types of companies telling their supply chain stories on SCDigest - I would love to hear yours too.

Did you watch the Dell supply chain videocast? Whether Yes or No, what is your reaction to this summary or the material presented? Will building supply chains from the customer back and segmenting supply chain capabilities be key trends for the nex decade in supply chain? Let us know your thoughts at the Feedback button below.